Post by 27th on Mar 18, 2015 19:44:16 GMT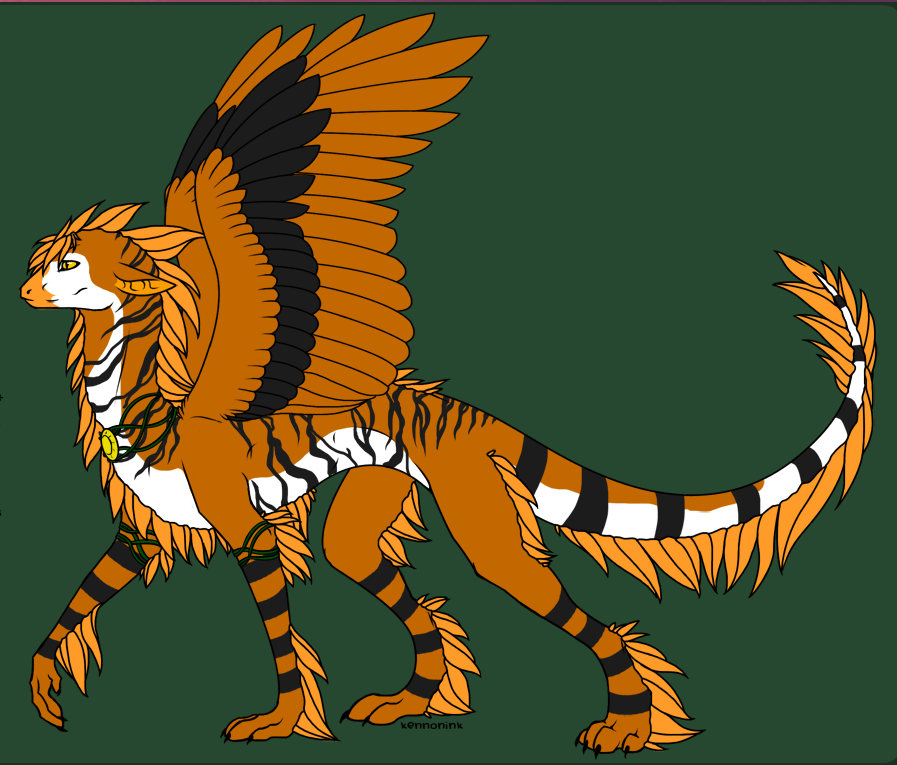 Name: Shazirka
Gender: Male
Creator: Earth Elemental
Age: Twenty Five Years
Appearance: Shazirka is five feet tall and ten feet long. He has tiger markings, is fluffy with feathered wings. He always wears thin vines wrapped around his upper forelegs (mementos of his home in the Jungle of Crouching Dragons). He also wears a vine necklace with a shiny gold coin because he has a weakness for shiny things.
Personality:
king yo no funi (Japanese) goldfish crap (refers to hangers-on)

Shazirka is a happy-go-lucky, easygoing dragon. Young, he has a lot to learn about the world. Ever curious, he is quite nosy, getting into situations and going places he just does not belong. More often than not, he will tag on to other dragons, whether they want him to or not. Usually, this causes problems for those dragons, making Shazirka quite an annoyance. Thankfully, Shazirka is easily bored and does drop out of the company he is with, heading back to the Jungle of Crouching Dragons, which he calls home.
Young as he is, he is quite impressionable, easily influenced by others. He'll agree to anything, no matter how silly or potentially dangerous it might be. He seems to have no common sense or ability to make decisions on his own. He doesn't mind stretching the truth or sometimes telling outright lies; anything to make him look good. These traits tend to get him into situations where he is in way over his head.
The only time that Shazirka seems most focused is when he is hunting. Living in the Jungle of Crouching Dragons isn't easy but this creation is specially adapted to his chosen territory. Like the tiger from which he gets his coloring, he is a formidable hunter. He has retractable claws and great camouflage. He even vocalizes like a tiger with chuffs, roars and-rarely-growls. He knows the jungle and is quite helpful, if only he had someone to keep him on the right track.
For those who know this dragon, he is never taken seriously. He loves to chatter, meaning that he can't keep secrets. May those who don't pray that Shazirka gets bored with them quickly. Not to say that Shazirka is a bad creation, just terribly misguided.
Other: Other than fire-breathing, Shazirka is immune to any and all poison. Also, he knows herbal remedies to poisons.
The lie that Shazirka likes to tell most is that he is Earth's Ambassador.