Post by Pine on Oct 2, 2014 22:15:58 GMT
This character will be adopted out on a first-come-first-serve basis.
Literally all you have to do is post and say you're taking this character and it's yours.
You are allowed to change anything and everything about this character, as well as keep the content I've already written up if you so desire.
Just think of all the information as a basic skeleton (if you want) and me detailing my thought process for this character as ideas to inspire you.
I've hardly used this character, if at all, so don't worry about consistency.
I essentially made Zephyr for two reasons.
One, I came up with the idea for his power (slightly influenced by the paper... things that were in Spirited Away) and thought it was the coolest thing since sliced bread, and so I made a Creation about it (as my only characters at that point was Icarus and Karma and I felt like some greedy little role player with having so much power, and I guess I just don't care anymore lol).
The second thing was that I wanted to have a terrible character that was difficult to hate but he could also be a doormat to people.
Essentially, he was meant to be cowardly and there would be some other manipulative dragon that would force him to do their bidding.
So he would end up betraying a lot of people because he's completely selfish and always plays for the winning team.
Without further ado, his (horribly informal and completely outdated wow this character is trash) character sheet!
- - - - -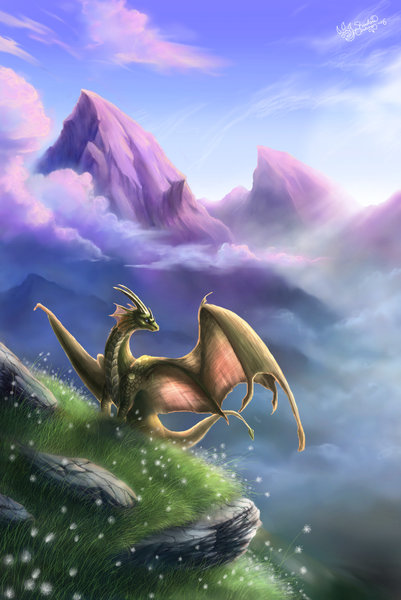 Name:
Zephyr
Gender:
Male
Creator:
Ysera [Earth]
Appearance:
For starters, Zephyr is truly a small dragon. He's about the size of a small, small horse. But his wing span more than doubles his size. Yes, his wings are large in comparison, making him almost disproportionate. But somehow putting it all together, he looks just fine.
Most of his body is covered in a deep, grassy green shade. But in places where the skin is thin, it gradually takes on a pink shade. These two places would be the inside of his wings and the frills on the side of his head. Running along his belly are more of a shade of gray heading upward with large scales. They just barely overlap each other.
Zephyr has two long horns twisting up from the back of his head, that lean back in a curve. It takes the same color as the majority of his scales, and they're a little bit flexible. There's one similar, small horn right in front of them, and there are frills on both sides of his head, aforementioned. His eyes are a simple blue color, and overall his head is lacking size as well.
His wings bear no scales. Instead, they're smooth with skin. He doesn't really seem that scaly, huh? The same goes for his tail, which is as long as his body. It's tipped with what is quite common if it isn't a tuft of fur for dragons, and resembles an arrowhead.
Personality:
Zephyr is quiet and shy when meeting others for the first time. He easily gets nervous around others - as he has a tendency to think a lot higher of others than himself - which is why he always gives off the impression that he's intimidated. Which, typically, is the case.
But getting to know him better can be a great thing. If he learns more of who to be more comfortable around, then he'll almost instantly start envying you. It's more of a matter of whether you threaten or attack him at first. If that does happen, he'll try to keep his distance, but otherwise he's a bit clingy.
With that being said, he can be easily fooled, and he's extremely gullible. If he starts putting his trust in someone, he typically can only see the good in them. Zephyr will practically become oblivious of everything else, even if you are using him. He's a very dependent dragon.
Zephyr's kind, curious and gentle at nature. He doesn't like to fight, and he avoids choosing sides. It's hard to say whether he's considered loyal or not. In other words, when the going gets tough, he'll more than likely get going.
He's an honest dragon, though, and can keep a secret when needed. He can just be a coward. Well, actually he is. Zephyr's typically optimistic, although he has a pitifully low self esteem. So if you're planning on taking advantage of some naive dragon, Zephr's your man. It's not that often that you meet a dragon like that, yeah?
Despite all of that, he does have his limits to things, and when he isn't scared out of his wits, he can have a feisty temper. He especially hates it if you betray his trust. And although he honestly can't do that much, he'll do all that he can.
Other:
Zephyr's quite unique in this area, whether in a good way or not. One thing that sets him apart from a lot of dragons is that he can't breath fire at all. Sure, he's relatively warm, but there are no flames brewing within him.
But a good thing is that he does still have a power. There isn't any particular name to call it, and it's difficult to describe. In a sense or two, he can mold metal into origami.
Zephyr has the ability to draw metal from the Earth - it's pretty much aluminum foil, actually - in a liquid state until it gets a chance to cool off and solidify. The metal is then under the control of him.
What he's typically done with them is make them into the same shape as a paper airplane, and the numerous sheets chase an enemy until they land a hit. It's like getting numerous paper cuts over your body, except a little worse. So, yes, they can fly.
There are quite a few uses for this, but all minor or strategic. It can easily annoy or distract an enemy. They can come together - although never molding together, they're always thin - and make a weak wall, or perhaps block Zephyr from being seen.
But if he's going to go with a straight forward attack, it can't do that much damage. Maybe after a while. And if they're really numerous - he typically won't have any past twenty, unless he's really mad - you could be easily fatigued from either dodging, or gradual blood loss.
This could be a reason why he doesn't like to fight. Even his build is not for war. It's impossible for him to finish someone off quickly, not that he'd want to, anyways. So it's difficult to say whether it's useless or not. Because while he's tossing foil at everyone, they could incinerate him within seconds. Well, maybe not but...