Post by Rordrik on Aug 15, 2014 0:01:34 GMT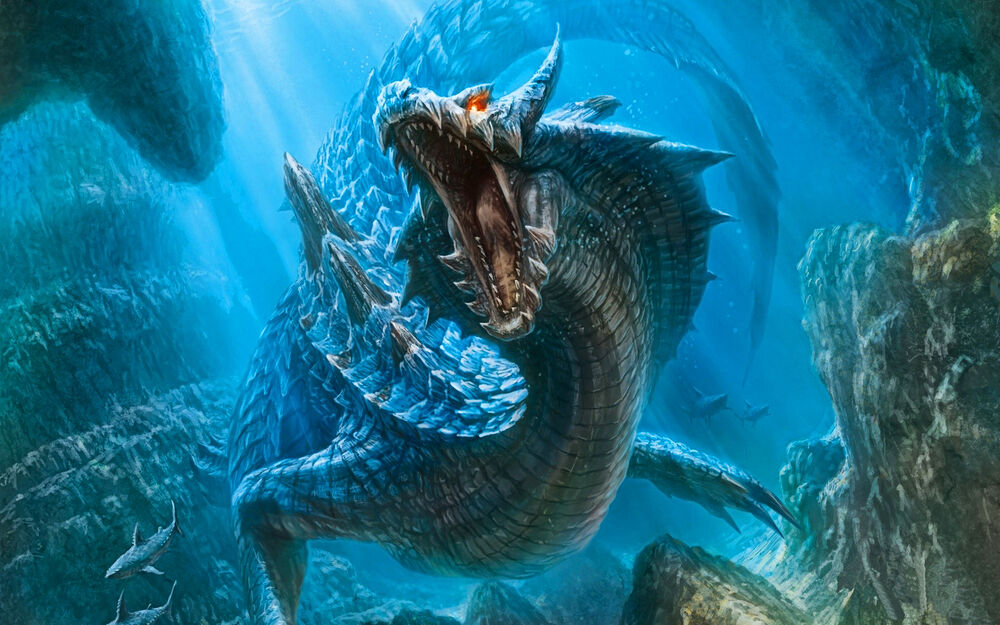 ▪ Age: Unknown ▪
▪ Male ▪
▪ Straight ▪
-Water Elemental-
Personality
Swirrmos is not the type that is typically seen around too many others since most of his time is spent in the depths. The greatest thing that people notice about him at first is his size so many are rather scared of him. His hunger is always well known as he always needs to be eating more and more to fuel his huge form. He is not rather picky about what he finds in the oceans to devour. This means that many human vessels, large aquatic animals, and even sometimes Creations can get caught up in the feeding frenzy. He is not malicious about hunting these things down, but it happens that sometimes his hunger can get the best of him. When this happens, which is typically right after he wakes up, his Creations and Riders learn quickly to stay far away from him.
When he is actually satisfied he is a rather calm and collected. There is very little that really seems to get to him since there is actually little that can effect him or his simple Ocean domain. It gives him an air of confidence and uncaring about much of the rest of the island. The calls of the other Elementals are largely the only thing that keeps him from just staying underwater. Even his Creations largely tend to keep themselves away from him, unless they are large enough to not be mistaken as food.
Appearance
Swirrmos is an enormous leviathan of the ocean. From head to tail tip this huge beast can stretch out to over 100 meters long and stands at about 20 meters just at the shoulder, making him as large as most sporting stadiums. This is without him really having long legs to stand upon like many dragons, his arms and legs being formed by long clawed flippers. Every inch of his long body is covered in scales that are as hard as diamonds and shimmer from the constant wetness that always seems to cling to him. Each scale locking together to form a hide that makes him rather slow when he is out on land.
Every ridge along his back forms up to huge curved spikes. They trail all the way along his spine and down his powerful tail all the way to the end. His tail is wide and powerful, nearly making up half of his overall length. His flippers are unlike many other dragon's limbs. More akin to a turtle's limbs as they are boney flippers each one ending in long claws that can rend his prey and are each larger than a human.
Fighting Weapons
His most obvious weapons are typically the ones that are also used the most. His long flippers each ending in claws that are larger than most humans and able to cut through solid stone with ease. His large head filled with huge teeth made for crushing even the largest of prey. Huge spikes running down his backside that can harm anyone getting close or he might be falling onto. His long powerful tail is largely used to power him through the water, though it can be devastating if swept around to crush a foe or even to wrap around larger prey.
His less obvious weapons include his breath weapon. He can shoot out highly pressurized water that can be focused into a cutting beam or even molded into a sphere to crush and contain his prey. Another thing that will surprise many is his speed when in the water. Outside he is a lumbering giant, but in the water he can moved faster than nearly anything else in the oceans.
History
No one knows where and when he and the other Elementals came from, but he has always taken to guarding the boundaries of the island. Keeping those that might prove dangerous away or simply eating those that looked tempting enough to snack on.
His dwelling has always been down beneath the waves only coming to the surface when major events or the other Elementals attempt to summon him. Very little is seen or known about him and his daily activities. Many of the people outside of the island know stories about him, the Leviathan of the Oceans that keep pesky creatures away. Though more often than not these are intercepted because they are easy meals more than anything else.
Other
Swirmos has many powers over water and the oceans at his command that are used for far more than combat. He has to work to control the waters even when he comes out onto land, otherwise there will be a great tidal surge that can sweep away large amounts of beech and cause destruction. If he requires it he can even create large bubbles under the ocean in order to give silly land creatures the ability to breathe though with rather limited movement or they endanger ruining their air source.
Rider
Compared to many Elementals he has fewer Riders than many over the years. Largely due to the fact that mortals are typically scared witless at the prospect of living underwater for large periods of time. Even those that he has cared enough to bless with the ability to breathe underwater have tended to not adapt well to the underwater life.
Therefore the only ones that typically are able to adapt are those who were originally seafarers that managed to get past his defenses in the first place or underwater creatures such as Merfolk. There are even times where he has claimed that human creatures were too noisy and tedious and has tried having a dolphin Rider. This did not work well, though it did teach him a valuable lesson about trying to understand aquatic creatures.
Lair
The foundations of his lair are largely big remnants of the lost city Atlantis as well as any large ship parts that he has claimed and brought back down with him. There is no order to what he keeps there, though the natural growths of underwater plants and coral make it a bright place to be. Schools of small fish can easily be seen, as they are too small for Swirrmos to get nearly any benefit from eating.
played by: RORDRIK ▪ face claim: Alphawolf6738