Post by Deleted on Dec 23, 2013 20:55:05 GMT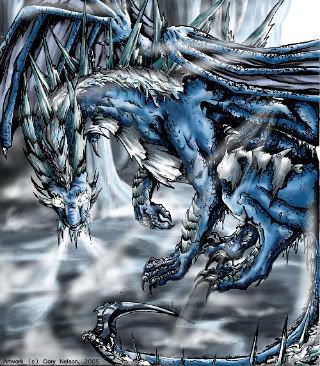 Name:
Shendu
Gender:
Male
Element:
Ice
Appearance:
The main body color of this Ice dragon is a mixture of dark and regular blue. With scales of paling white located on specific places of his body. His rigid body frame is the coldest to the touch, almost enough to freeze, almost. The engineering of the body was created in the way to use it as his weapons. It does not matter what part of the body the opponent is trying to defend themselves against or even attack him at, the body is the weapon. Around his mouth lay a sprout of short whiskers but do not be deceived. They are not nice whiskers of a cat, remember all upon his body in a weapon. His talons or claws, which ever the victim wants to call them, are of the sharpest out there. Razor sharp and easy to slice ice. Shendu has wings of a beast, sharp ends on both wings, strong muscle within every inch, even scales that provide for great torture devices but only when needed of course. The spikes that run along the back to the tail are seen as icicles but that is so far from the truth. They are seen like icicles however they do not melt and the points are similar to those of needles. Painfully sharp. His tail is an aspect about the body that is never forgotten, a symbol of death and despair. Some would call it the "tail of reapers", for it resembles the reaper's scythe. The curve and shape are deadly; to be touched by tail is an ending life waiting to happen. A forever death symbol.
Fighting Weapons:
His body is pretty much a weapon, from the spikes that trail down from the neck to the tail to the talons that are razor shape and he keeps sharpened daily. Shendu will use whatever he can, his attacks can be more physical than anything. However that does not mean his breath is not as deadly as his bite. His breath is frigid cold that will freeze all and any of the air molecules, where he breaths, that includes in the nasals of his opponent. Any advantages, whether be dirty or clean, he will take.
Personality:
Shendu is his element, Ice. He does not care about the injured or hurt; they are weak to him and have hold no advantage to him. His attitude is rude and somewhat crude; his words are sharp as icicles and as fast the cold air that soars through the territories. For most Elementals, modest, caring, fairness, and all of those traits and more, are accounted for. However, this "rule" does not apply to Shendu. He goes by what he believes is right, fairness goes some way with him. If you have proved yourself worthy in some battle or something of that caliber. Respect, to him, is only given through battle or war. The dragon is weak if he is receives help from an underling. And yada, yada, and so forth. Simple enough, Shendu is not the nicest dragon anyone in the entire world will ever meet; ever... ever, ever, EVER.
History:
His history is unknown to all that he meets and shall not be known. For to him it is just a weakness. It is strange for one to protect his history as so, but Shendu does with all intent to kill if anyone tries to pry the information from his head.
Other:
Shendu has different abilities from his ice element, such as his breath mentioned earlier or the spikes on his back can be released and fired down like a needle storm. The spikes regenerate within three seconds. His eyes glow for two seconds when any of the abilities are used. His breast plates/scales do not dent nor break and the end of his tail can turn be used a scythe ice blade. It has also been mentioned to be able to mess with his creation's mind, however, this has been only been used on Selgar and Cavul. ((And can only be used on Creations that are role played by Kaguya/me or with permission from the Creation's role player.))
Rider:
Arceia
Role played by:
~Kaguya
~~~~~~~~~~~~~~~~~~~~~~~~~~~~~~~~~~~~~~~~~~~~~~~~~~~~~~~~~~~~~~~~~~~~~~~~~~~~~~~~~~~~~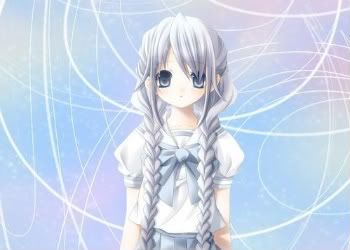 Name:
Arceia
Gender:
Female
Element:
Ice
Appearance:
Her hair is a pure white with two pale blue orbs for eyes. The girl's skin is soft a newborns' and has the lesser of all tints. The style of her hair changes depending on the day, most of the time it is in braids however even in that style, her hair is long enough to reach down to the middle of her back. Her clothing usually consists of the color white or blue of any tint. Whatever makes her look the least noticeable. Some would say she has the look of a fragile being but Shendu has no worry for such unimportant matters about her. She appears the same as she acts, small, not there, not important to Shendu's task. Arceia, however, does always try to conceal the pendant that she holds. No matter the situation, she always has the pendant on her, even if no one can find it.
Personality:
Arceia is very shy at this state and does not do much of anything to make herself stand out. She lives for Shendu and that is her purpose, to be with and stay with the Ice dragon as long as she is the same persona. Her personality is what He demands, so it is so. That is how she acts and how Arceia reacts to all situations in her state.
Fighting Weapons:
She does not fight, she is too timid and "fragile" of an item to take into battle. (As that would be said by Shendu) He never granted her an actual weapon, however she was never defenseless. Arceia has the power to create barriers and walls, to a limit of course. She carries a pendent around her left wrist; it is attached to a strong black string that wraps around her arm.
Other: It would seem that sometimes that her dragon does not care for her, but that is an inaccurate conclusion. For Shendu does care for her, as a master does his weapon and shield. To him, Arceia is nothing but a tool. That is their relationship and forever will be. That only question now is why is she with him?
She has also never met any other riders or Elementals. Arceia, herself, is "new" so she has never met any others but she has seen them. As Shendu has specifically pointed them out but only to see, never to meet them though she has never wondered why. Just follow along.
History:
Her history is bleak and very skimmish to her, the memories of it are almost never there. All she can really remember is the life spent with Shendu, anything before that time is almost nothing. Occasionally, she does get quick flashes of her past, like little snips of a movie, but they are rare and tend to come less often now of days. Arceia's own parents, the ones who gave birth to her, are even a mystery. She will never understand why she can't remember though.
Dragon:
Ice - Shendu
Role played by:
~Kaguya
**
Disclaimer
**
Please note all images and templates used/displayed are
BORROWED
and I
DO NOT
claim these.
Each belongs to
the
respectful owner/creator
.