Post by Deleted on Aug 28, 2016 2:57:26 GMT
AKHIL,
THE DARK ELEMENTAL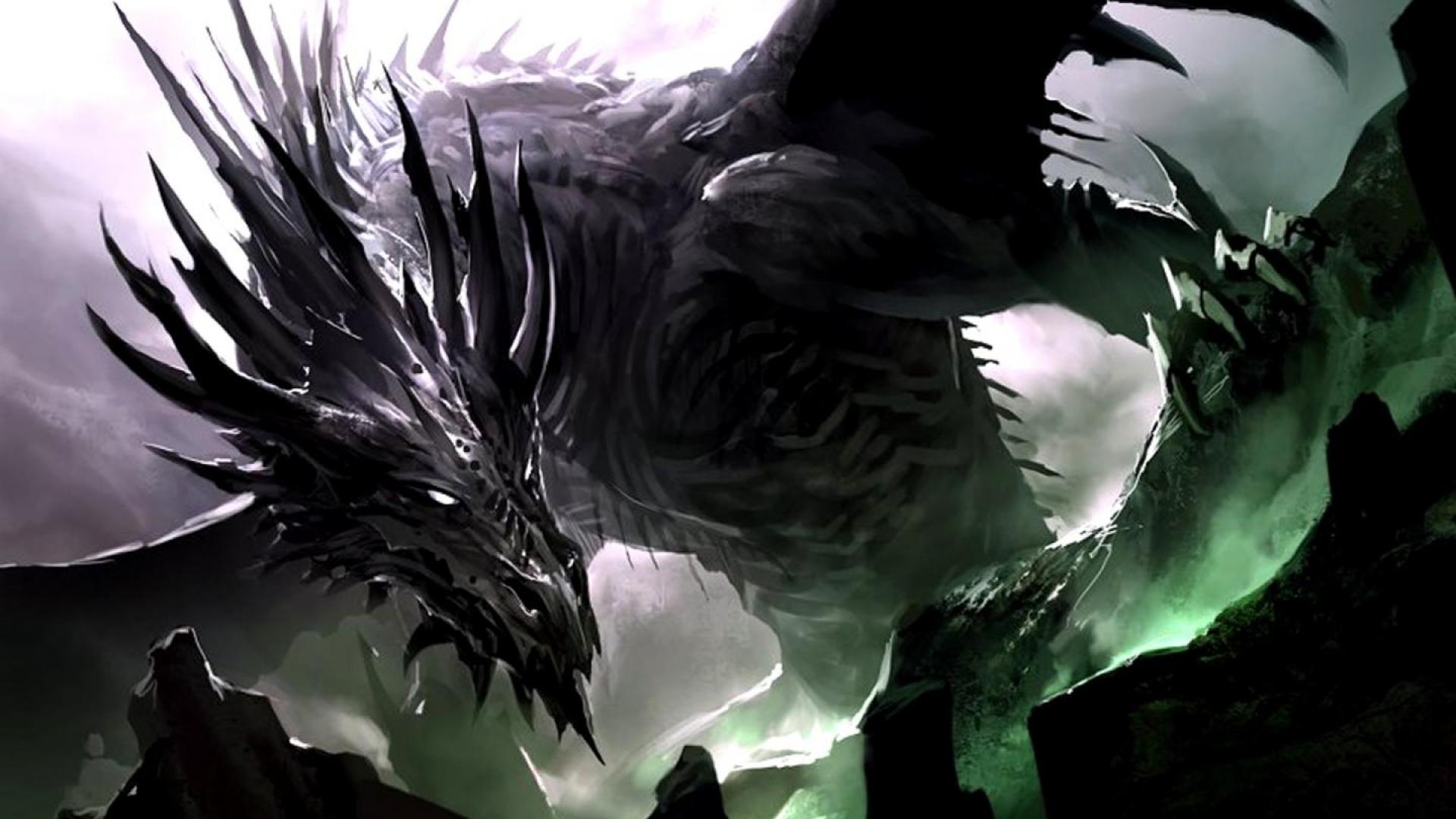 "Sometimes, the sweetest wine is squeezed from the grapes of wrath."

Name:
Akhil
Gender:
Male
Element:
Dark
Eye Colour:
Green when neutral, white (with no pupils) when angry or using powers
Appearance:
(He's not as large as he appears in the picture.) Akhil is completely black with bullet-proof, burn-proof, lizard-like skin stretched over his body. His torso is very broad, and with his body's build Akhil can walk upright like a bipedal being at times (something his rider taught him), though he has somewhat lost this ability due to him traversing tunnels for so long. He has large, bat-like wings that enable him to fly at fast speeds. He has spikes all over his head, and along his back, all the way down to his tail.
His chest and belly are armored, and are as hard as the hardest metal (but it's all muscle beneath). Like the rest of him, it is completely black, and segmented as well. His teeth are the only thing besides his eyes and tongue that are a different color-- they gleam white and are as sharp as knives.
Personality:
Akhil is extremely smart, and learns very quickly. He is willing to think out-of-the-box and try new ideas; whatever to help his side. This brings us to his second positive trait: loyalty. You can be assured that the Elementals will have the Dark's loyalty 'till the end (in the case that Elementals clash, he will side with whomever he agrees with/is closest with). Akhil takes pride in serving his allies (and himself) everyday, and is a hugely patriotic soldier. He won't hear a bad word about his allies, and if he does, it's usually met with his teeth and claws. However, Akhil tries to be considerate for others, and tries to think in others' shoes; what would they feel if he did something that they didn't like? Is a fight really going to be necessary? How could he get others to like him? He has become more and more observant as he grows older, noticing things in other's words and in the everyday surroundings. He has grown to be a lot more mature and serious, and has started to control his angry outbursts and extremely competitive spirit. He is also very organized and always tries to think of a plan for the next day, so things have less of a chance of plunging into chaos. Over the moons, Akhil has also developed a more confident personality, and his new leadership has spurred that on.
However, Akhil has a tendency to taking things the wrong way, especially when a small comment was meant to be harmless. He still can be very judgmental of others, and disapproves of those who break the laws. He can be extremely curt and abrupt when he wants to, especially to intimidate others. He has a harsh way of talking to dragons he doesn't like (it's very obvious when he doesn't like someone, but of course his opinion can change), and still has quite the short temper, though he tries to hide it. Akhil can also become easily jealous of others, and this usually leads him to be really rude. He had developed a more bossy attitude towards others, which also leads to him being prim; he can seem extremely formal and stuck-up, and instantly disapproves of others who are rude (sometimes he is, too). He can turn aggressive quite easily, especially when someone taunts him or his allies/Creations.
Akhil doesn't really like to show his true emotions; he already is aware of his short fuse, and doesn't prefer to explode, because he doesn't want to ruin his image. He usually responds with an unhelpful message, to show that he "doesn't really care." However, when he does want to convey what he's feeling, he can be extremely brazen and honest, and this tends to scare younger dragons off. Although Akhil can feel pity, he has a hard time showing it, as he's not exactly the dragon who provides the best comfort. He is very practical in his ways; he only does things if they benefit, and sometimes, he will cast everything else aside just to do something he feels is "important." Akhil is also very matter-of-fact and down-to-earth; he doesn't try to dance around subjects, and gets right to the point. He can be easily annoyed, especially by dragons he doesn't like already. However, he doesn't try to take it out on them, so it doesn't show often. He is also quite neat, and doesn't like to seem messy, as he believes it will be bad for his image. Akhil has also become more defensive and careful about everything, as experiences in life has taught him to stay on his paw at all times.
Akhil has come to think that no one should be too dependent on anyone else (or anything else). He encourages dragons to be loyal to what they think they should be loyal to, and spends a lot of time trying to convince unsure dragons to be loyal to him and his allies. However, he refuses to succumb to anything, and often is stubborn and won't listen to others' words if he thinks they're trying to persuade him to go the wrong way, which can be frustrating.
Positives:
-Brilliant
-Loyal
-Patriotic
-Considerate
-Observant
-Merciful
-Rational
-Organized
-Confident
-Dutiful
Negatives:
-Judgmental
-Harsh
-Short-tempered
-Easily jealous
-Anxious
-Abrupt
-Bossy
-Prim
-Aggressive
-Stubborn
Neutrals:
-Solemn
-Stoic
-Reserved
-Honest
-Practical
-Matter-of-fact
-Waspish
-Neat
-Defensive
-Careful
-Competitive
-Independent
Rider:
Titanius
Other:
His relationship with his rider Titanius is extremely close, and he confides his true feelings to Titanius, who often helps him make hard decisions, and break through dilemmas. Upon meeting him, Akhil has also learned to calm down somewhat, and be a little more patient. He also appreciates Tivialous as a friend and brother, as they were buddies in the war. However, despite gaining Dragonsdeep, Akhil still feels somewhat bitter towards Ysera for destroying his home ("thanks a lot."), but is willing to work with her if needed. After all, she didn't really do it on purpose. Viamor is just about the only dragon that he harbors a deep hatred for, as they were engaged in a battle previously.
Children:
Karalis Engelis
(
Rivaxorus
)
Powers:
(current ones I can think of)
Akhil completely controls the darkness, and can control it to do whatever he wants.
Dark mimicry--
Akhil himself can convert himself into pure darkness, and can create images and shapes from shadows and pure darkness, too. These projections are not alive.
Umbrakinesis--
He can bend shadows and darkness, and manipulate them to his pleasure. He can make a select area completely dark, though this can be possibly countered by Tivialous.
Shadow travel--
Akhil can use shadows as portals and travel to desired locations, so long as those locations have objects that cast shadows for arrival portals.
Night vision--
Akhil has a natural ability to see as clearly in the darkness as during the day (though he can see relatively better at night).
Dark energy manipulation--
Akhil can harvest darkness into energy, and he can exploit it and use it to attack others, as well as use them as force fields.
Fire-breathing--
Akhil can breathe fire like any other draconic being.
Fighting with weapons--
Akhil has the ability to stand upright and grip weapons in his paws and fight with them like a human or elf. He can also use his teeth and claws as natural weapons.
Flying--
Akhil can fly with his wings.
Telepathic bond--
He has a telepathic bond with his rider, Titanius.
Creation--
Like all Elementals, Akhil can create organisms (usually draconic-like beings called Creations) from pure darkness.
Picture link:
wallpapercave.com/wp/FVGfuOP.jpg
---
RP sample:
"Akhil?"
"Hm?" The large black dragon, who had been slumbering with Titanius leaned against his side, opened an emerald eye. A hazy black shape swam into view, and Akhil yawned and opened both eyes, awakening Titanius. Glancing back, he saw Sigmund, his tiny black-and-gold ambassador, peering anxiously at him. A wave of affection, which was becoming less and less of a foreign feeling to Akhil, washed over him. "Yes, Sig?"
"Sir." Sigmund straightened up, and looked from Akhil to Titanius, giving both a small salute before continuing. "The Creation of Many Elements has begun to stir."
Akhil felt his blood run cold. No. Not again. A hand was placed on his arm, and he knew Titanius could sense his agitation and growing frustration. "What? How do you know?" he said, unintentionally growling at his messenger.
"I eavesdropped on Haikal and Tam, sir," Sigmund answered in a serious tone with a straight face. Akhil almost cracked a smile, but decided against it. This was grave matter. What were they going to do? How could they destroy it? Last time, they'd failed. They would need a better plan, and perhaps some help.
"Thank you," he said, addressing Sigmund. "I'll need to go to Tivialous and the others."
"That's my job, sir," Sigmund said, giving a small bow. "I hope you can get the rest of the Elementals to listen. Following you can be a challenge."
Akhil was momentarily taken aback. What did the small bloke possibly mean? Him? A challenge? The surprise grew quickly into anger, and Akhil could fel himself firing up. Did he just call him stupid? "
What
did you just say?"
"I didn't mean that," Sigmund said quickly, "I don't mean that you're dumb or anything--"
"Dumb? Me?"
Akhil.
Akhil could feel Titanius's thought-speech in his head, calm yet with an obvious warning tone, but he brushed it aside.
"How dare you--"
"AKHIL!" this time, Titanius had jumped in between the two before any action arose. Akhil realized that he'd reared up and was standing upright, flaring his wings and puffing his chest, towering over Sigmund, who, for the first time in years, looked frightened. "Stop. He meant to say that you're smart and that the others could have trouble keeping up with your thoughts and plans. Right?"
Akhil backed down instantly, feeling terrible. Sigmund cowered behind Titanius, giving a small nod. "I'm sorry, Sig," he said heavily. He knew he should really say more, but he couldn't bring himself to do it. Not when he was feeling this grave. "You're dismissed. Take a break and go to your friends." Sigmund disappeared without a "yes, sir," and Akhil let him go. Heaving a sigh, he and Titanius stared out after the young ambassador.
"I took that the wrong way again, didn't I?"
"You think?"