Post by Pine on Dec 16, 2013 0:31:26 GMT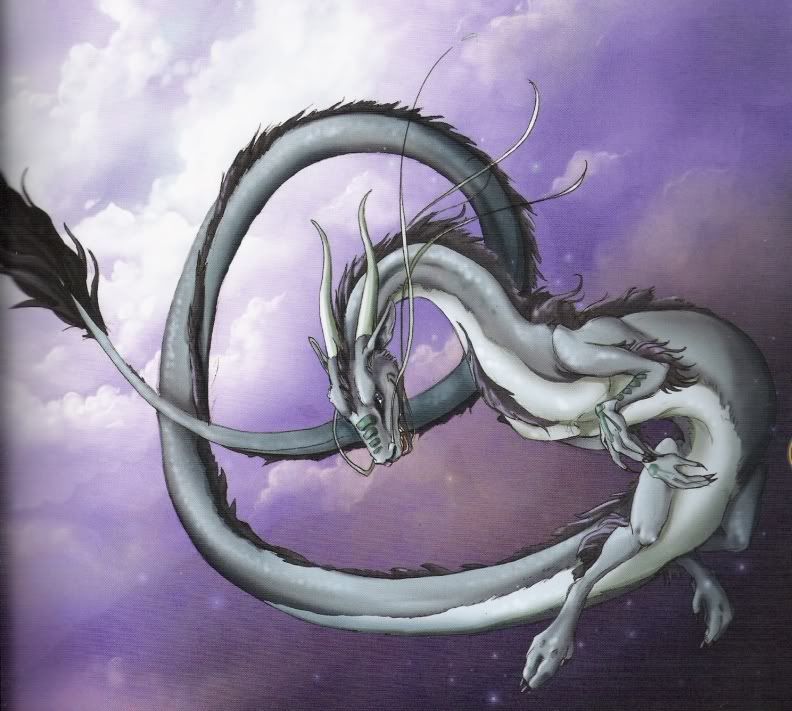 Name:
Quintus
Gender:
Male
Creator:
Air
Appearance:
Quintus is long and thin, as he is an Eastern dragon. He is naturally built for speed rather than power, though that doesn't mean he is totally fragile in his build. Quintus' tail is powerful and could probably knock down a small tree with little to no effort.
Quintus is made up of different mixes of blue. All the hair he has - a mane that starts right before it reaches the snout and travels all the way down to his tail, which eventually bursts into a tuft of fur - is a dark blue, nearly appearing black. He also has this shade on a line on his chest and bursts of fur on the back of his average length arms and legs.
Most of his body is not composed of scales, but rather short fur that's in a lighter shade of blue. The only scales he has appear on rows on his snout and his forearms. They are a little darker than the main shade of his body. Finally when you reach his underside the blue becomes relatively close to the color of a light gray.
Quintus does no have impressive claws, and they are the same dark shade of blue that the longer fur on his body possesses. His ears a long and right to the inside of both of him are two long, curving horns. They are an off-white, nearly appearing gray. He also has something along the line of long whiskers that stream down from his mouth, being white in color. Two come from either side of his nose, and two more from beneath his chin. His chin is more square than round. On both of his arms, almost as if for decoration, there is a large, spherical lump on the back of his paws, and three lines resembling veins pop out from them in the front.
Personality:
Quintus is very task oriented and isn't much of a talker. He's friendly, knowing his manners, though he is always on his guard. The smallest things that can hint at as a threat he will take it as such. He is very serious about everything he does and can only truly feel safe when he's around the Air Elemental, though any of his Riders are met with a large degree of caution at best.
Quintus has troubles at times taking jokes and understanding sarcasm, rather, he can potentially take it as an insult and lash out, so others have to be careful of what they say around him. He never completely feels relaxed when around others and he gets worried over things easily, therefore resulting in him being often stressed out.
But in spite of that, he can be fun sometimes. He loves flying and the light feeling it gives him each time he weaves through the clouds. He is rather intelligent, as most dragons are, and has a way that he can talk that can convince just about anyone to buy into his words.
Along with that, he is incredibly stubborn. If he believes that something is wrong, he would speak up about it, no matter it being someone of a higher or lower status than himself. Once he decides something, there is no turning back. One thing to look at this trait in a good way is that he is truly someone of their words. However, if necessary, he can and will lie. For some, Quintus is not the most trustworthy character.
Other:
Quintus holds the important title of being the Air Elemental's ambassador. Though he truly loves his job, some things he has seen in the past because of this have scarred him. He has learned to harden his old, soft personality in order to protect himself and possibly others from further harm. Though he may have changed for the worse, his loyalties still remain with Air and will forever be there.
That aside, when he has a job to do, that is all that is on his mind. Quintus has been known to ignore others if only to finish his job all the quicker. Sometimes he can come off as rude to others because of that. The only way to attract his attention when he's like this is to either attack him or be involved in the situation in some way.
Quintus prefers to flee from battle, but when it looks like that is not possible, he is truly fierce and will fight until his opponent is down - sometimes for good, depending on the severity of it and the situation of things - or he has an opportunity to properly flee. He is not very powerful, but his speed is difficult to match. He personally prefers long range attacks, which, lucky for him, is exactly what his power is.
Aside from being able to breathe powerful flames, Quintus is capable of throwing balls of electricity. They can form both from inside his mouth and on the outside, where he has to open his jaw to be even wider. When he forms them from inside his mouth, they are more for a quicker succession of hits, and they are not as powerful as they could be. When he opens up his mouth, however, the ball can become larger, cover a wider range, and be much more powerful, though they won't form as quickly.
When Quintus makes contact with an opponent with one of these, they explode in a flat layer of electricity and will spread out until it dissipates. A brilliant flash will light and, depending, the other dragon can take quite a powerful blow. His attack stings a lot and generally can induce enough damage to expose flesh from beneath skin that was once there.