Post by Pine on Dec 16, 2013 0:14:03 GMT
NOTE: HEAVILY UNDER CONSTRUCTION
I'm leaving this here for quick reference to old ideas, but please understand a lot of things are subject to change in the near future!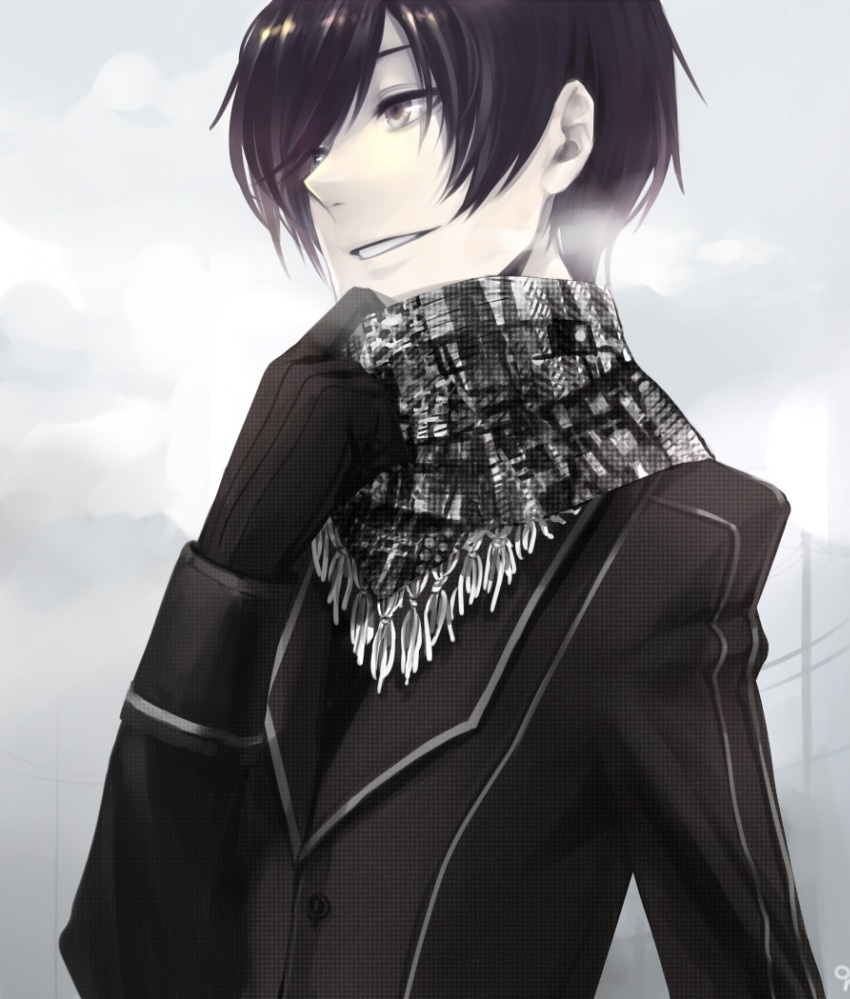 Name:
Aiden [ I - den ]
Gender:
Male
Element:
Time
Dragon:
Adutaine
Appearance:
Aiden posses a youthful appearance, perhaps looking the age of an older teenager. In actuality, he's the age of an adult, having recently turned 27. His frame is slim and fragile. It looks as though if you were to so much as flick him with a finger, his bones would shatter and he would collapse. Though it would be expected of him to be tall in the mean time, he's the average height of said teenagers, if not a tad bit shorter.
Aiden is typically pale, appearing white. It contrasts a lot with his hair and the clothes he wears. Generally he will be seen wearing shades of black. He will also be dressed heavily, being that he gets cold easily. On a typical day, he will be seen wearing a tightly fitting, dominantly black in color, buttoned up jacket. He also likes to wear black gloves - perhaps because he doesn't like to touch things, though he won't admit it, but rather claims that they're more comfortable than bare hands - and a scarf, mixing shades of black, gray and white.
Aiden's hair is long and black, bangs hanging messily about his head along with the rest of his hair. His ears and nose are a slightly pointed. His lips are thin, as are his eyebrows. And as almost as if he were meant to wear this theme, his eyes are also a gray color.
Personality:
Aiden is an optimist. Or at least he appears to be. It is rare to see him without a smile on, whether it is real or not. He always seems to be looking on the bright side of things, and can find the good in practically anyone. Truth be told, he simply wants others to experience joy, and he is rather selfless. Even if he were to be unhappy, he would not want it to bring down others' moods because of his own self pity.
However, he knows when something is serious. Though he tries to control it, his temper is awful and he isn't exactly patient. If one observes Aiden closely, it will become obvious that he's almost always anxious about something. He fidgets a lot, even if it means just rubbing two fingers against each other.
One thing that he can never turn down is a challenge. Even though he may know that he is being provoked, taunted, or its just a trap - no matter what it is, he will be up to the task. Aiden doesn't like being belittled by others and can and will do whatever it takes to prove himself, if only in order to wipe a smug smirk off of someone's face. In that regard, he is incredibly competitive against others. One thing he can't stand is being pushed around by others. Aiden isn't always the best selection for a leader, but if those who are leader abuse their position, he has been known to do various things to them.
Despite all that, he has a very serious personality. He is well mannered - well, whenever he isn't spitting fire at someone, anyway - and polite. Aiden is not one to brag, nor talk about himself. Like Adutaine, though, he's rather sharp and observant. If he thinks for long enough, he can take any situation from any place, look for clues, and analyze almost anything that has occurred there. Also, if he does so happen to become angry or is handled in a hostile manner, he can have a rather sharp tongue. However, a lot of is just talk. He often doesn't mean a thing that he will say.
Aiden has a very broad imagination. He's almost always bursting with ideas and is not afraid of sharing them. From a young age he had dreamed of growing up to be an architect. Although he may never be able to come close to his old dream ever again, he doesn't mind it. Being a Rider in no way restricted his ambitions, but rather it has been able to open his mind to more ideas, that of which he welcomes gratefully.
Another thing about the man is that he has a curiosity that is difficult to control. Aiden has a tendency to stick his nose where it doesn't always belong. Sometimes he can get into some deep trouble with it. However, Aiden does at least have some judgment on what he should and shouldn't be worrying about. If he's interested on his head staying on his neck, anyway.
Even though he knows for a fact that Adutaine doesn't feel the same way about him, Aiden is very loyal and attached to her. He takes it as a blessing that he met her in the first place and also finds her to be a creature of beauty. Generally he won't bother to hide his real personality around her. Although he generally acts really cheerful, he almost always takes into account the negative things of life before the positive things. Because of that he's very cautious about certain things, and even if the better scenario may outweigh the worse, the worse is still there.
Fighting weapons:
Upon becoming the Time Elemental's latest Rider, Adutaine presented him with a sword. It isn't anything particularly special, it's an ordinary sword with no special powers. However, over the years, he has become quite adept to using it. The sword is straight and long, but thin. It is more for speed than to do damage, but over the years of Aiden wielding it, he has become a fierce battler and one to fear. He takes very special care of it and it is always with him. Generally he will have it on his back - conveniently in a black sheath.
Alongside his sword, Aiden does have one power that does come in handy. He can shows himself and others the past. Aiden can select a spot and a range - though it cannot stretch out too far, otherwise he may collapse from exhaustion - and produce a two-dimensional projection on the ground that he touches with his hand. The land will seem to quiver before a pulse will be sent out from his hand and a scene from the past, almost like it would in a movie, will play from whatever time he chooses. However, he can only do the past, and it is always for a bird's eye view, sometimes making it more difficult to see than many would like. Also, it only displays motions and events - there is not audio involved.
Other:
Aiden has been with Adutaine for quite some time, since he was at a young age. As a result, he's one of the more experienced Riders. Also, his father was an elf, but his mother was a human. However, he stayed with his mother. He ages slower than most, even though his customs and cultures resemble humans more than elves.
Aiden can easily craft things in his mind. If he willed it to, he can turn waterfalls into elegant fountains, he could shape a tree trunk into a spiraling staircase, and the list could go on. He likes to spend a lot of his spare time finding some way to sketch anything that pops into his mind.