Post by Pine on Dec 16, 2013 0:08:58 GMT
NOTE: HEAVILY UNDER CONSTRUCTION
I'm leaving this here for quick reference to old ideas, but please understand a lot of things are subject to change in the near future!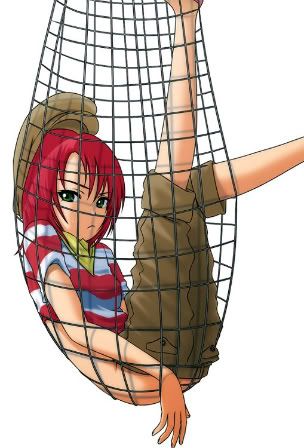 Name:
Karma
Gender:
Female
Element:
Darkness
Dragon:
Icarus
Appearance:
Karma is little more than a teenager, though being eighteen years of age, she's technically an adult now. She holds a thin body for both not having much of a chance to eat properly back at her home and that she's typically doing something physical. Like stealing from a booth, or perhaps running from the force. Well, she is quite the trouble maker.
She doesn't have much of an opportunity to switch out her outfit. She can usually be found wearing khaki capris, with the end rolling up just below her knee cap. She wears a red and white striped shirt-the striped being thick and bold-that has been too small for her since who knows how long. Tucked inside the shirt is a dark, yellow bandanna, and she wears pink sandals which are-by the by-extremely worn out and virtually have no support in the heels. And to top everything off, a brown hat with the color worn out of it as well.
Karma likes to keep her hair short, and she dyes her hair an unnatural red color. She used to be a brunet, but she might've just gotten tired of people being wary in crowds of any brown haired girl wearing a puffy hat without the obvious embroidery. Unfortunately for her, they figured it out sooner or later.
She has radiant emerald iris' that stand out. She has dark, thin eyebrows that hold a tendency to be furrowed, and she has a small nose. Her skin is sort of on a neutral side. It's neither extremely tan nor extremely pale. Why, yes, she is Caucasian. Overall, she's a bit average looking.
Personality:
Karma is in many ways very similar to her dragon, and in many other ways not remotely close to him. She, for example, holds no policy such as his. She's typically snobbish and over-confident when meeting others. Depending on the circumstances, she can also purposefully provoke others. Some call her foolish and immature for that very reason, but she just finds it fun.
But also, she isn't evil by any means. Karma only steals for survival purposes, and has no plot for world domination or anything stereotypical like that. Just like her dragon, she loves thinking things through first before taking actions. But unfortunately, without proper education, it won't always be blowing as much of an impact on others that she might hope for. But she's typically not rash. Unless of course you manage to really tick her off.
She's very adamant, and she doesn't like others controlling her. Though she doesn't posses leadership qualities, nor does she want to be a leader, she hates others ruling over her. She simply loathes it, and tries to make herself equal to the others. But when certain times call for it, she will subside grudgingly. Mainly, she enjoys having options and being able to choose from them. Like most of the population of females, she thinks that that priority is that she has to get her way.
Against Icarus' will, she doesn't have as strict of a distaste for lying and deception. Obviously she has to fool a lot of people quite often, and she does lie. Although she's a little better than the average person. Well, for her friends. And she doesn't have that many, nor does she find that she needs to get along with others.
Karma is not an open person. She tries her best to keep to herself and be as close to apathetic as possible. Sometimes it's for her own protective purposes, and apparently her fragile temper does not count. Along with the temper comes a lack of patience, but she's working on controlling both of them.
Fighting Weapons:
Weapons? Why, yes, that's one way you can define her. Icarus never really bestowed any to her, because he was already shocked enough with how many she carries around on a regular basis. There's hardly any end to the list of weapons she has and where they're hiding. So yes, she's dangerous when wielding them.
For this section, there can only be examples. She has a pocket knife-which she actually uses to keep her hair short the way it is-and also a few other knives probably stuffed in a pocket, or she managed to hide away in her own shoes. There's probably a few daggers in there as well, and a good number of them are silver.
There are thin cords of metal wire that have edges sharp enough to cut through skin and sometimes even over metal. She also has silver throwing disks which can sometimes be combined with the wire to control the direction that they fly out. And another thing that makes the wire dangerous is how difficult they are to see when they're spread out. You have to capture the light in precisely the right way. Otherwise you'll never expect it.
Although her weapons aren't very good by themselves or maybe in the combination of them, all those small cuts can eventually add up. Another reason to be wary of them is because of her poison. You never know when they're coated in them or not, and sometimes it can leave devastating effects.
Karma is most renowned as a rider particularly for that very reason. It's a slow and painful process, but it typically isn't fatal. Typically. There are several steps to it, and the effects can sometimes depend on how powerful of an entity you are or not. It's a clear liquid, and it's all her originally designed formula. She typically keeps them in small, plastic viles. Glass shatters too easily, after all.
First, the victim to have so much as a small amount seep into their body is temporarily paralyzed. Of course you can still think, then what would the unbearable pain that shortly follows be for? One flaw in not shutting off the brain is that others can still use any special moves. For example, if you breath fire and can manage to crack open your mouth, you can attempt to scorch the living daylights out of her. But after a good enough time, you might be knocked unconscious. This might just happen to weak riders or creations. And if you're horribly wounded or sick enough, it might be fatal.
It effects humans and elves the most, and the effects don't last as long for dragons, and it would probably only manage to slow down an elemental and hurt them a bit. If there's a war or battle coming that either Karma or Icarus know of, she will sometimes share it with her dragon, and maybe even allies. But it depends on the seriousness of the situation whether she shares it or not. So, be a bit careful of some water that might be on the ground. There might've been a little spill on the ground.
One last thing to note is that she has minor control over shadows. They're a lot less powerful than Icarus', and will disperse from the smallest hit. She doesn't like using this too often, because it drains her and isn't very long lasting. She can't expand shadows - she has to use what she has.
Other:
Karma has a really small amount of money, so she's practically forced to steal things that are necessities. In her original world, she had to live on her own. Also, she can be a bit of a trouble maker. Okay, fine. She always gets herself into troublesome fixes. Karma is wanted and has escaped from regular prisons too often. Now if she's ever caught, she's swept away to high security prisons, which she still always finds a way to break out of many times.
And although she was originally stealing for... decent intentions, it seems to have rubbed a bit off on her. And now she's an occasional, petty thief when Icarus isn't around to stop her. She may even be a kleptomaniac by now; it's difficult to tell. But it's a huge possibility, since there's no reason for her to steal anymore. And yet she continues to do so.