Post by Pine on Dec 16, 2013 0:04:21 GMT
NOTE: HEAVILY UNDER CONSTRUCTION
I'm leaving this here for quick reference to old ideas, but please understand a lot of things are subject to change in the near future!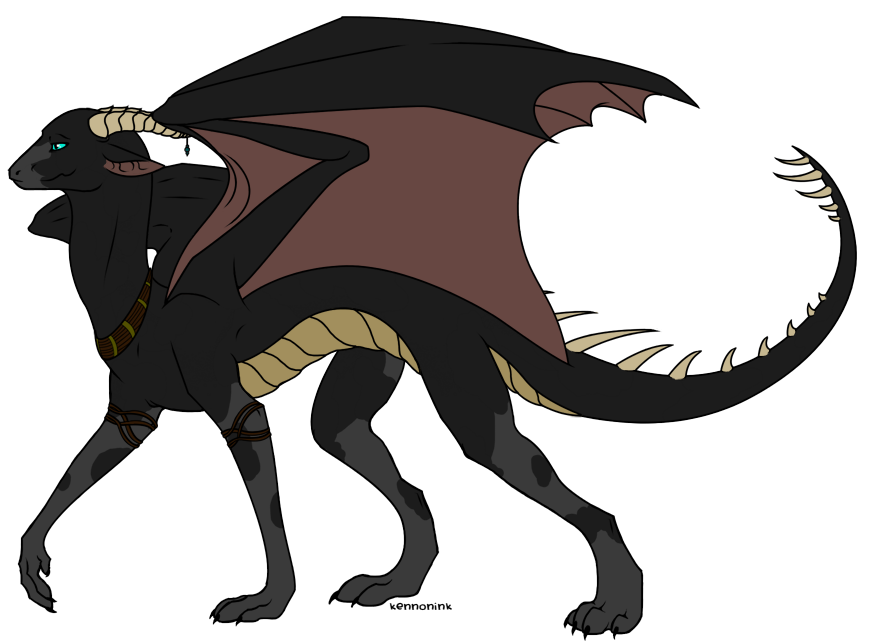 Name:
Icarus
Gender:
Male
Element:
Darkness
Rider:
Karma
Appearance:
In spite of what many would assume from an Elemental, Icarus is not a large dragon. He rivals the size of a fully grown draft horse at best, barely surpassing it in size. His body is sleek and lithe, built for speed as opposed to power. He has scales, but they are very tiny and compact, making him look like his skin is leathery from a distance. The base color is a sort of ebony shade with splotches of covering his legs and covering the front of his face.
Icarus possesses an impressive wing span - easily filling up most rooms or cave when fully extended - the inside of his wings being a pale violet color, predominately red in color. Neck has a long and elegant neck, typically held high unless the situation calls for something otherwise. Perhaps it is his most vulnerable spot, being that his belly is protected by ivory plates. His tail is long and is the only place on his body where he has spikes, that of which start small at the base of the tail and grow in size toward the tip, spaced out and the color of bone.
Icarus's face has angular features, giving him a sort of square jaw, thin and small. His ears are very expressive, almost always in motion, and they share the same color on the inside as he has on his wings. Icarus's eyes have no pupils, and they instead glow a brilliant light blue shade. His horns curve slightly and, lined in ridges, they sharpen to a point.
Throughout his time in the human and elven world, along with other various adventures that he has had, the Dark Elemental has picked up more than just a few decorations that he likes to wear. A tiny turquoise bead hangs from both horns, hanging limply from a thin string. As a sort of necklace, he keeps a rope-like chain around his neck, covered in, at intervals, gold rings. Ornate strings decorate his front arms. One things he only wears, conditionally, is an off-white dragon skull that has teal feathers attached to them. Not much is known about the skull by people who are not Icarus, except it is a common tool for him to scare Creations.
Personality:
Icarus does not correctly portray what was once thought to be darkness. Darkness was once evil, mysterious, and isolated. He is not what you'd think of as your stereotypical dark dragon. He does not take full advantage of his powers and crush those that are weaker beneath him. No, if anything, he may be the polar opposite of what would be thought before knowing him.
He is actually quite peaceful on that note, and can be a bit too passive. In other words, he has a rare quality among a good number of the other Elementals. Icarus has patience, but it's unwise to push them. He tries to be lenient, he really does. But, if you push someone hard enough, eventually they'll push back, right? Only he'll rip you to shreds. Aside from that, he's friendly and very polite.
Icarus is quietly cocky about himself. He doesn't like his power being questioned, and he can be a bit curt when the time calls for it. But at the same time, he can be modest. He won't brag about himself out loud, because he feels that he doesn't need to. Everyone should already know not to tamper with him, after all.
Another trait that one might not have expected to be is that he's quite loyal and has certain righteous policies. Icarus is simply disgusted by lying and betrayal, and finds those two to be possibly the worst crimes of all. Things like that repulse him, and it has developed quite a strong bond between himself and Karma. He also tries not to take sides in situations where he's not directly involved in it, and he would rather just watch from afar and see how things unfold.
Icarus prefers to think things through carefully before acting. He does not battle tactlessly and without a plan. When he sees problems stirring, he will go through certain scenarios in his own mind and look for possible solutions for anything and everything until he chooses a favorite, while allowing the others to reside elsewhere in his knowledge, in case he ever needs to use it. You are sourly mistaken if you call him anything along the lines of rash and naive.
Fighting Weapons:
To start off, Icarus is light on his feet in both ways. He can be quiet and quick, not to mention that he's just in general flexible, swift, and agile. He's not as fast in the air as he is on his feet, aside from when he's diving down. So, yes, he does prefer that type direct combat.
He can be found with his claws dripping with Karma's poison sometimes, which is a fearsome weapon with lethal results in case the claws weren't enough for you. And again, Icarus can tear a good amount of flesh with his teeth. Preferably it'd have to be a bit more on the soft side. In the case that the same set of fangs were to be used on certain areas of himself, it'd be utterly useless attempting that. But most assuredly, you'd get hurt otherwise.
As far as powers go, Icarus does not have the standard fire breathing thing. He actually has a bit of a minor ice breath that isn't good for much. It is - obviously - nothing in comparison to the power that the ice dragon can wield. It's basically like having a freezing gust of wind brush up against you, but it can't do much harm if it isn't used properly. But of course he'll find a reason to use it for, even if it is just a bit of small ice shards pelting at nothing.
Icarus has complete control over shadows. They can bend to his whim in whatever way he wishes. And yes, they can actually do something. First he concentrates just enough to gather or expand the shadow to the appropriate size, then twist it into another shape. Next, it may peel off the ground and be a two dimensional silhouette of something, which is at that point as effective as the real thing. But it's up to him whether or not he wants them traveling on the ground as an actual shadow or not. This is actually his method for developing his creations. Just add color.
Once in that state, the shadows can do anything from possessing a dragon or rider with the simple touch, rendering them temporarily immobile, or maybe even shaping itself into a hand and strangling their opponent. He can also make a shadow completely shroud over someone, obscuring their vision and not allowing them to budge even an inch as they slowly pry away at them in some way shape or form.
Icarus can develop balls or charge beams of energy as well. From his mouth, shadow particles can sweep over to his beak that's cracked open and slowly create a dark black and purple swirl of energy. When he decided it was big enough, he would stop gathering the particles and instead release the bond from the ball of swirling enemy and shoot out like a beam. It has a surprising electrical feel to it, and is like a controlled lightning bolt. But he can also bend the beam into whatever which way he wants to.
History:
Icarus has never had a mate. Not once. He isn't particularly looking for one, since he's typically busy with other, more important matters. But he has made quite a few creations, whether or not it's for his own benefit or not.
Unlike a good number of Elementals, he actually grows a bit of an emotional attachment to them. In his free time, he might actually be watching over them from afar. Some of the creations have heard of this as a rumor, so they're a bit clingy to his territory. Whether it's for selfish purposes in believing that they could get away with it more easily. But the thing is, Icarus may send a shadow to step in, but only if the creation has honest intentions. And that's one thing that they might not have heard, and some of his creations have died because of that.
Some people may disagree with him on this, and they might say he has more important things to do. Some may even call him a little childish, or mistake him for being rash or selfish because of this, which he obviously doesn't take with a smile. But Icarus grows bored with just examining how things go, and sometimes he'd rather step in. Because let's be honest, how would you like lounging around all day with nothing to do except watch over the land?
Other:
He can transform into a raven, in this state he is extremely vulnerable and weak. However he can do an excellent job of hiding in this state, spying and all of the above. Therefore he doesn't need to use this form often unless he has to gather information in secrecy, or just in general blend in so no one can find him. It proves excellent for Icarus if he needs to blind an enemy, which requires and extensive stealth.
Icarus generally will be found in this form at times without war. It helps with pranks often. However, to the keen eye, it would be obvious he was no ordinary bird, mainly due to his general awkwardness in such a small body. Even so, being the playful prankster he can be, it's no rare occurrences that he uses this to pull one of his creation's legs - figuratively or not.