Post by 27th on Dec 9, 2013 22:10:16 GMT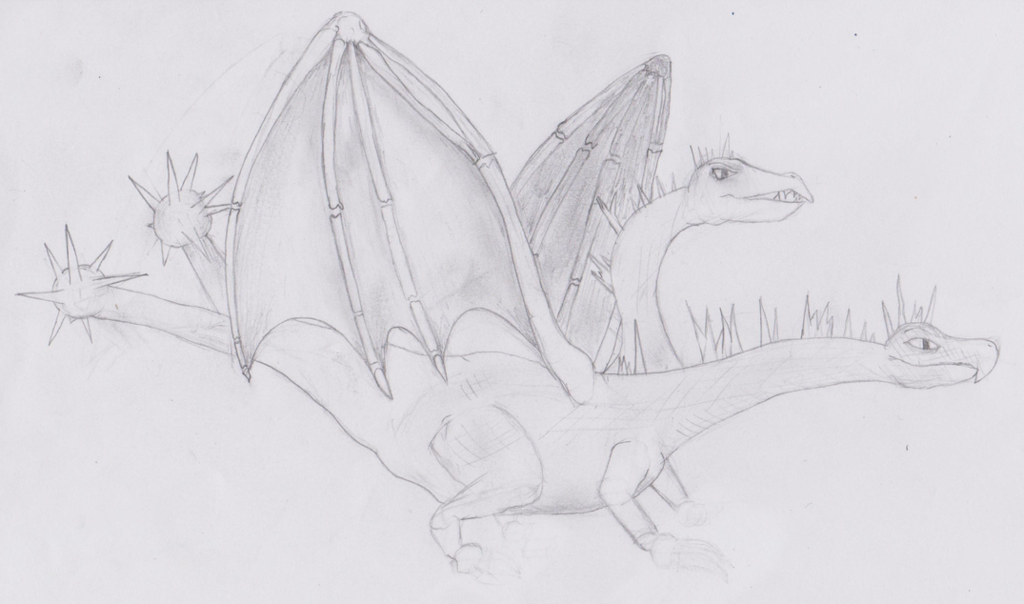 Names:
Icicle and Ivory
Gender:
Male
Creator:
Viamor
Appearance:
Icicle and Ivory are a massive two headed white dragon. Their eyes are ice blue and they have icicles for spines that start at the top of their two heads, go all the way down their snake-like necks, down their spine and end in their split tail. At each end of their split tail are clubs of ice with ice spikes protruding from them. Their wings are bone like in their structure but the membrane is thick and hard to penetrate. They have four legs (usually) that are bow-legged in appearance and can't straighten themselves out. Their faces are sharper looking, more beak-like than anything else but Icicle does have teeth. Their massive feet have claws made of onyx.
Personality:
Icicle is the more aggressive of the two heads. He can easily snap at any little botheration. He isn't easy to control due to his massive size. Only an Elemental or one equal to his power would be able to control him. Icicle is difficult to befriend for he is very suspicious of others, except those made by his own Elemental. He is not a quiet dragon in the least and will never hold back, whether his opinion was asked or not.
Ivory, on the other paw (or what-have-you) is passive. He isn't easy to provoke and Icicle has a difficult time trying to get him to take on anyone. He is a quiet dragon by nature, being mute. He can express himself and usually only talks to his other head. He is not quick to judge and his judgement is far better than Icicle's. He is easy to get along with and can control Icicle easily enough for he (thankfully) is the more dominant head.
Other:
Their powers are thus: they can regenerate lost limbs, like their head, leg, wing or tail. Part of this is that they can grow two extra pairs of legs, if needed (like Stitch). Ivory may not be able to talk out loud but he can use telepathy to communicate. His head is also the one that can spew forth ice fire. Icicle is the left head and Ivory is the right. They control those sides of their body respectively (though certainly not always of each other). Icicle thinks their names are far too feminine and he introduces himself as Ice and his other head as Ivor.