Post by Pine on Oct 2, 2014 22:36:14 GMT
This character will be adopted out on a first-come-first-serve basis.
Literally all you have to do is post and say you're taking this character and it's yours.
You are allowed to change anything and everything about this character, as well as keep the content I've already written up if you so desire.
Just think of all the information as a basic skeleton (if you want) and me detailing my thought process for this character as ideas to inspire you.
I don't remember precisely why Cylae ever came to being.
I think I noticed the lack in Time Creations and I was bored, really.
There was probably some element of me thinking of a power and wanting to tack it onto a character as well.
So essentially, I was messing around with a dragon creator thing, came up with a design that I liked, and bs'd the rest of my way through this character sheet.
I suppose it's also worth noting that if I were to describe my ideas for her, I would have absolutely no idea how to describe her personality... it was all THAT poorly developed.
So I would definitely encourage you to revise that a lot... or maybe not... whatever floats your boat.
- - - - -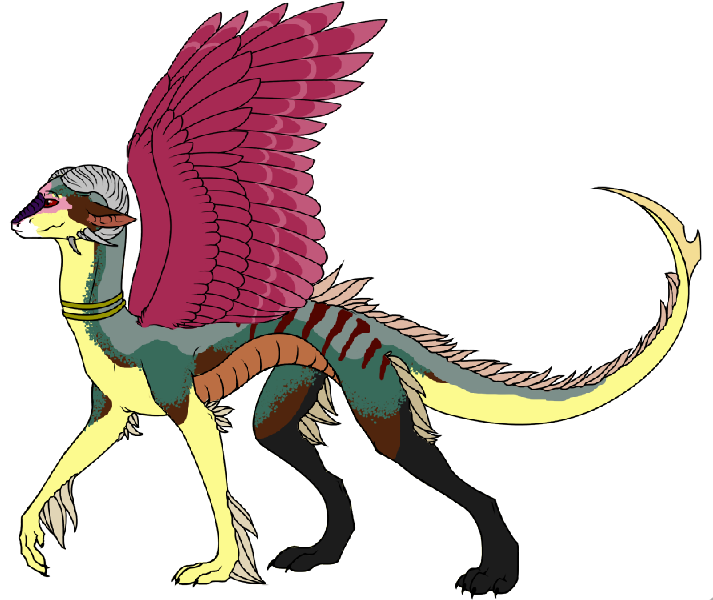 Name: Cylae

Gender: Female

Creator: Adutaine [Time]

Appearance: Cylae is a very complex figure to describe. She is a blend of many various colors that look as though they were slapped together and somehow still turns out well. Cylae is sleek and elegant in her movements. Her frame is well built and has been toned with muscles. The scales upon her body are smooth and barely visible to the average eye. What appears to be the base color is a bright tan shade, complimented by the beige fur hanging limp from her and the dark shade of tan on the sharp part of her tail.

Along her back is the aforementioned fur - it starts out at a moderate length and gradually grows shorter as it reaches the blade on the bottom of her tail, which has something resembling a dent in it and still ends sharply. The rest of the fur is on the back of her legs. In the front pair, the hair is short on the elbow, then long and hanging just above the paws. Then the long hair appears again at the back of her thigh.

Cylae's front legs are primarily of that beige color, and the back are black. As you proceed up her, a brown color appears at the sides, barely visible under the speckles of a dark mixture of turquoise and gray tones. Then along her back and seeping slightly off the sides is a lighter shade of the turquoise. Further down her back are maroon stripes that run along her side, thinning as they continue along. Her belly is lined with large rows of light brown scales that are surprisingly smooth.

Her head starts out round, then becomes long and narrow as the muzzle develops. Her ears are long and take the shape of a rounded cone. The back of her jaw is studded with two pairs of spikes, which through them and around the ears curl her gray horns which or similar to that of a ram. Cylae possesses a dark shade of red for her eyes, only to be interrupted by a slim pupil, and surrounding her eyes are a light shade of pink. The top of her muzzle is covered in large rows of purple scales which end abruptly at the eyes, and at the very edge of the muzzle is a splotch of white. Cylae's wings are large and feathered. They are primarily a dark, dark shade of pink, but include a lighter shade at the end of the feathers. The only accessories that Cylae wears are two gold bands that fit tightly about her neck.

Personality: Cylae naturally has an overwhelming sense of curiosity about things. She has a natural sense of adventure, and when an opportunity appears before her, she grabs it without hesitation. She can be a bit of a trouble maker sometimes as a result. Or, rather, she just gets herself caught up in nasty situations a lot. Though despite the number of times this happens, it seems that never learns.

Cylae is a very reserved character. She's good at making friends, and certainly is friendly and great fun to be around, but that doesn't necessarily mean she gets comfortable around others. But she is loud and assertive when speaking. Fear doesn't come easily to her, and when needed to be called upon, Cylae can turn fierce in an instant. She is loyal and protective when she feels the need to be.

On the drop of a dime, this creation can lose all her friendly luster that she once had. Cylae has a fierce temper and can turn aggressive in an instant. Also, she isn't necessarily trusting of others. Cylae enjoys traveling a lot and has as a result learned to be only as hospitable as the other person. If she deems the situation worthy and thinks hastily enough, she has even been known to speak out of turn, which doesn't always end well for her. She is smart enough not to be fooled easily, and doesn't like it when others assume her to be naive.

Other: Cylae has the ability to have her spirit abandon her body. The spirit can then possess any and everything. Even inanimate objects, such as a rock, which are much easier to possess than her fellow Creations. However, there are risks involved with this. Every minute that she is gone from her body counts as a year for her body, making her age substantially. Thankfully, however, once she returns to her body, this is all reset. In addition, she can only go so far from her body before her spirit is whiplashed straight back into her body - or worse - she doesn't have the option, and therefore dies while still being a spirit bound to the world. Because of this, she only uses this when absolutely necessary. Thankfully she's careful, and the spirit can travel fast. But obviously, as for the last risk, her body is completely vulnerable; and that doesn't heal when she returns to her body.