Post by Pine on Oct 2, 2014 22:30:19 GMT
This character will be adopted out on a first-come-first-serve basis.
Literally all you have to do is post and say you're taking this character and it's yours.
You are allowed to change anything and everything about this character, as well as keep the content I've already written up if you so desire.
Just think of all the information as a basic skeleton (if you want) and me detailing my thought process for this character as ideas to inspire you.
I've hardly used this character, if at all, so don't worry about consistency.
Basically with Vastille, I was browsing artwork of wyverns, because I love thinking about the way they crawl around and stuff, saw the picture below and built a character around it, simple as that.
My character usually aren't as peppy as him, though, which is why I suppose I can't stand role playing him anymore.
Also, I thought the whole vibrations thing was an interesting concept.
Now, there was a small period of time where I brain stormed how to make this character more enjoyable for me and I came up with an idea that I could never figure out how to implement.
I talked to Sam about this, and she was okay with Vastille having been around when Creations were still able to breed (a looooooong time ago and not something I think very many people had thought of, so still a pretty neat concept).
He had super wanted children and perhaps had finally found a mate around the time the Elementals had decided to strip Creations of the power to procreate, so Vastille is one of, if not THE, only dragon still living after having experienced that being personally taken away from this.
As a result, he has something of a darker side where he harbors a lot of hatred toward the Elementals, particularly Tivialous.
You don't have to use this idea by any means, but I thought it was kind of neat.
In any case, know that in order for him to have lived for THAT long, Tivialous would have had to have put a LOT of energy into his creation, so maybe there was some greater purpose he was originally supposed to serve.
Something neat would be if he was like this old dragon, and because of his rather quirky behavior, everyone thinks he's crazy.
In any case, those are just my thoughts that I would like to see come to fruition, but it's entirely optional.
- - - - -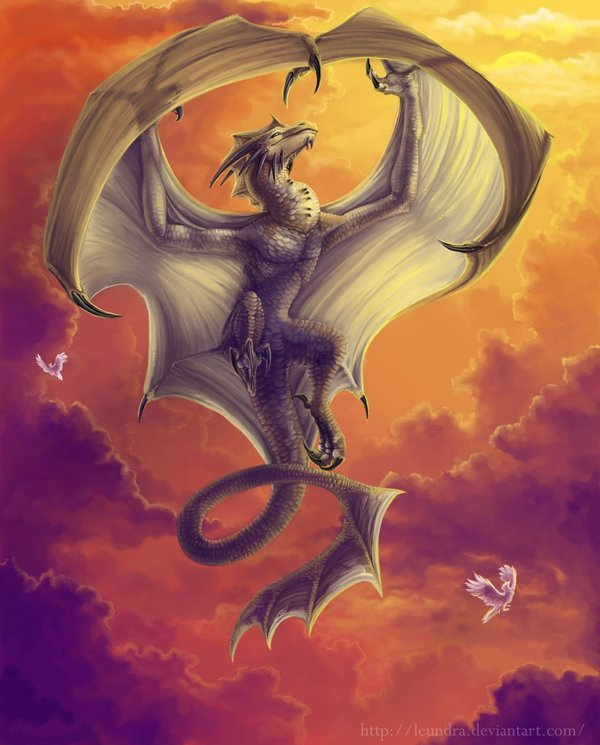 Name: Vastille

Gender: Male

Creator: Tivialous [Light]

Appearance: Vastille is composed entirely of a sandy brown, dark along his back and lighter along his underside. He is a wyvern, meaning that his arms are attached to his wings in a long, thick web. The ends of his wings end in being studded with black spikes, and this webbing is large, ending where the tail begins. Vastille is built well in muscles, particularly in his arms, so he's a great flier.

Vastile's body is scaly, and his claws are all long and curved. Along his powerful neck, these scales have a tendency to stick out and are of a black color. His tail is long with finlike extension at the end. This same sort of fin follows along the back of his head, starting at the top of his cranium and halting to a stop at his neck.
Vastille has a kind face, generally broad with a smile. His brown eyes are bright, and he has a long snout, which on the bottom have two small spikes. Along the edges of his jaw and climbing up, Vastille has many spikes, each one becoming longer than before as it moves along. The Light creation is elegant in his movement, and has very expressive facial expressions.

Personality: Vastille is an optimist, looking on the bright side of things before he lets any negative possibilities come to mind, and is rather happy-go-lucky. The Light Creation is always brimming with energy and treats everyone equally with a kind nature. Any fights that he may be involved with are only as a last resort, as he can be passive in some regards. In others, he's surprisingly bull headed, though he will remain cheerful, if a little vigilant.

Vastille has no fear of approaching others and making friends. He gives everyone a chance, despite circumstances. He is generally very emotional, generally seen with a wide grin firmly on his face. Vastille has a tendency to also be a little jumpy, and big noises will get him on his feet in an instant. He is alert and focused, and Vastille will listen to anything anyone has to say. He's also been known to jump in at any opportune moment to lend a helping hand.

He hates to take sides in any situation. Vastille thinks before he speaks in any situation that isn't relaxed, particularly due to him being a laid back individual, who, in fact, talks to himself a lot. He's playful and almost childish at times, sometimes being naive even when he knows better.

Other: Vastille is able to conquer nearly any terrain. He can scale mountains, fly the skies, he's a fairly decent swimmer, and he's even mobile in the desert. And he can be pretty agile, while we're at it. He only has a single gift, and that is his sensitivity to vibrations. It comes in handy sometimes, but most of the time, it's rather annoying, though he's learned to deal with it over time. Depending a little on where he is, Vastille can easily detect the location of every step a foot takes. He can even tell when someone is lying by the quickening heart race caused as a result of it. It also makes his sense of hearing amplified, though he hears sound a bit differently, picking up more on the booms from the vibrations rather than the shifting tone of the voice.