Post by Deleted on Aug 7, 2014 17:32:39 GMT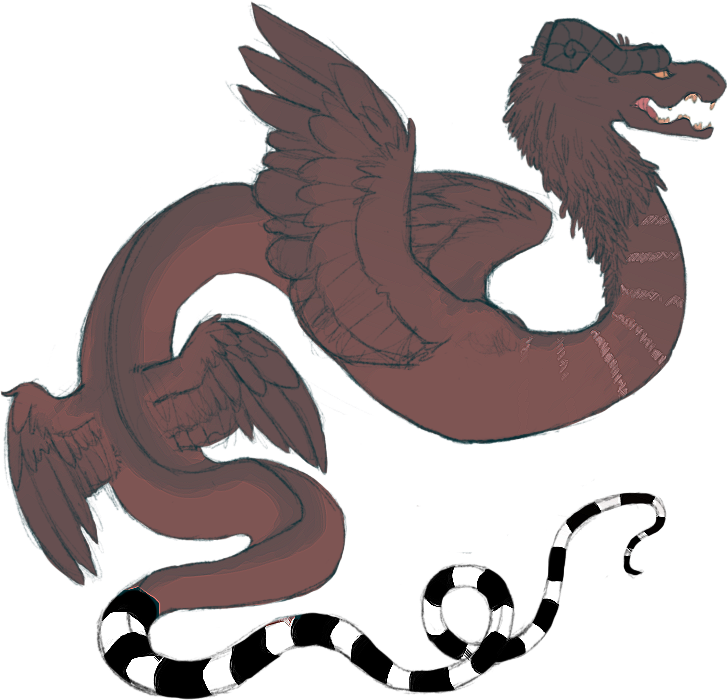 COLUMBAFEMALE
|
FIRE CREATION
[CREATOR: ///] |
112
YEARS OLD
Played by & face claim: Nuck
Spring/summer appearance:
link
APPEARANCE:
Columba has the basic anatomy of an Amphiptere—she doesn't have any legs, and her body is very long, thin, and serpentine. Her only appendages are two sets of wings, allowing her to fly. She's very nimble in flight, and the second pair of wings enables swift maneuvering and controlled steering. To get airborne, she has to slither off of high places (such as trees—or clifftops).
During the summer, Columba's colors brighten (as in, her red feathers molt, losing their dull winter appearance, and they become a richer and more noticeable red). The bands on her neck also become more vibrant, flashing orange and white. Columba has a mane of feathers that go from her head to the middle of her neck; it changes color like the rest of her when she molts, but other than that, the mane remains mostly the same. Columba's eyes are a dark amber, and her horns are thick and curl like a ram's along her brow. She has sharp teeth, and the structure of her jaws is crocodile-like, except her muzzle is shorter and blunter.
Most importantly, Columba has a very long, whip-like, black-and-white banded tail. Its purpose is to give her a means of defense, as her legless-ness makes her oftentimes vulnerable when she's on the ground. When a predator spots her, they, in theory, pay less attention to her body and instead focus on the tail. Its length and coloration serve as a sort of lure in this way; so, when the predator attacks, they only aim for the tail, therefore giving Columba the chance to escape. And even though she can lose a lot of her tail this way, it always grows back—exactly like a lizard's.
PERSONALITY:


Don't ever call her a worm. She will lose it.

Columba is rather temperamental; she can be hot-headed and stubborn, and once she's decided that she's going to do something, there's not much chance of talking her out of it. She doesn't have much patience with others, especially when they're shy or timid (it's not that she necessarily tries to be mean, though—she just has a hard time remembering that there are personality types radically different from her own). She also hates wasting time. If she wants to do something, she does it immediately. Waiting, in this regard, is like a foreign concept to her. Part of the reason for this is that Columba doesn't remember things very well, so she likes to react when the emotions are fresh, and act when the moment is raw. Due to this, she can seem rather tactless at times. And brash, to the point where it's hard for her to make, let alone keep, friends.

However, for the most part, she doesn't particularly mind being alone. She likes company, although she's most compatible with others who can move at a similar pace to hers. In fact, if she's with someone who is notably less enthusiastic or less driven than herself, she will most likely leave them behind. But again, not on purpose. She is sharp-tongued, brutally honest, and self-centered (read: narrow-minded), but she doesn't mean to be harsh or put others off. Truthfully, Columba doesn't even recognize that she does these things, so low are her social skills. Regardless, she's loyal to those who tolerate her, and she can be rather affectionate in her own way. Also, her hardheadedness isn't all bad—she always gets things done, whenever something that needs to get done presents itself.

In contrast to all of this, though, Columba is actually a fairly lazy individual. The thing is that others serve as a spark for her—without that second-party stimulus, she tends to do nothing with herself. (Part of the reason is because she has no friends. But, then again, she does like to sunbathe for really long periods of time.) Columba is not especially creative, even though she's spontaneous. She makes a horrible advice-giver, as her best suggestions will always range from the very empathetic "walk it off" to variations of "well, just do it." This can typically make her seem cold and unsympathetic, like there's a wall between her and others. And there kind of is. Columba has a hard time combating loneliness because of it, and she often goes through turbulent bouts of frustration over the fact that she just can't seem to cultivate long-lasting relationships with anyone at all.


POWERS:
cbcvgbcvn

HISTORY:
gnhvgfh