Post by Rordrik on Aug 3, 2014 21:18:08 GMT
▪ Age: Unknown ▪
▪ Male ▪
▪ Straight ▪
-Ice Elemental-
Personality
Ice can be hard and unforgiving until just the right spot is found before everything breaks and the rush of uncontrolled rage breaks through. This is much how one could first find Viamor. His demeanor is largely one that would make it seem like he does not care about anything outside of what effects him or his territory. Living quietly for the most part and only leaving his Frozen Tower when he has a clear purpose. His calm calculating outlook is mostly due to the fact that he is trying to decide how useful anyone or anything can be to him. So long as there is some use to him he will try to care. Though if there is one weakness he has, it would be in his pride.
As are many dragons he is a proud creature who believes by his very being that he is better than nearly anyone else. He begrudgingly gives some respect to the other Elementals, but he is quick to show anyone beneath him their place. There have been many Creations and Riders who have said the wrong thing in passing to him and ending up seeing just how terrifying the giant can be when angered.
He seeks to perfect both himself and the world around him. Every mountain, lake, and tree in his lands he would say were painstakingly placed for the perfect balance. His Creations are made to be the best, large, strong, and intelligent. Of course, given his seeking perfection and willingness to experiment to achieve it this does not always happen. Many of his own Creations have felt his wrath at perceived weaknesses, many deciding it best to leave his presence before long unless they become his newest test subject.
Appearance
His entire body seems to be covered in ice crystals. From head to tail he is coated in ice that grows from him. It has been known to break off and fall onto careless creatures that happen to get too close to the behemoth. He stands tall and broad, bigger than some of houses that Riders came from or have built on the island. At the shoulders he typically stands at about 8 meters tall, though with the ice covering all the parts of his body that can increase greatly depending on how much builds around him to pad out his already impressive size. His body and tail extends out to be nearly 30 meters long. Every bit of him typically seems to be very sharp to be used as a weapon at anytime he might need it and not encouraging anyone to get too close to him.
On the rare occasions he is actually seen without his immense ice coating him there is still a rather large and impressive dragon underneath. The crystals coating most of his blue and purple colored scales to allow him to blend in amongst snow and ice easily. Striking blue eyes that lack any pupil staring out from a rather traingular and fierce face. He is completely scaled from head to toe, seeming to need nothing to heat himself. Some say that even his very blood is water that easily freezes, which is what caused the great cooling in the area in the beginning.
Fighting Weapons
His most commonly used weapons are also the most obvious and largely defensive things about him. Every inch of his crystal armor can be manipulated in shape from diamond-hard armor to dangerous spikes. These can also be fired from his body at an enemy or nuisance for when he does not feel something is worthy of dirtying his claws. His breath weapon is a cloud of ice that can cause severe frostbite or internal injury if inhaled. When in combat he prefers to only engage in fights that have an advantage to himself and cares little for petty squabbles. He will work to end a conflict as quickly as possible by any means necessary.
History
As with all of the Elementals, Viamor does not know where he first came from. The times so long ago that history has forgot about his first actions. Creating the lands about himself to his own desires in order to mold the land into the Ice Territory as it is known today.
He is not well known for spending much time with the other Elementals unless he has to. His own lands and his Tower being where he spends most of his time and finds no need to really leave much. He currently does not have any known offspring and has made no moves to make it look like he would be looking for any kind of mate, though of course there are can always be times when the urge can strike even the most cold of beings.
His time is mostly spent in making Creations and other types of experiments within his tower. Some creatures say that the Elemental is a bit insane in his desire to make perfection from his Creations and trials. Of course, this has also led to him creating some of the more unusual Creations should they survive long enough to be seen in the outside world.
His thirst for power and perfecting his art has led him to be at odds with even some of his own Creations. Having openly attacked and worked to corrupt them in the past into the fighting machines that will serve him best.
Other
His powers over ice itself is widespread and versatile. Any ice within his domain he can manipulate even from a distance, though the closer it is the easier this is for him to do. This means that his coating of ice is very easy for him to manipulate at a moment's notice into whatever is best needed for the situation.
The temperature around himself he can chill greatly, making most creatures uncomfortable to be around him. Any moisture in the air he can turn to snow in his vicinity, usually making the area around him covered in fine snow or even more. He gives off no heat himself, meaning that anything looking for warmth should stay far away.
There are even rumors that he has been working on something in private. An ability to make Creations that are completely bound to his will with none of their own. Screams of anguish sometimes can be heard echoing from his Tower.
Rider
While he has had many over the years he only takes on one at a time if he feels that they have any worth at all. Many humans and elves have found themselves in grave danger the very day they meet him. His current rider is
Tabae Frostquill
, who has actually been able to last with him for just a little over two years now. Therefore they have actually been able to form a slight form of bond together. This bond is largely in their shared efforts to improve themselves and lack of acceptance of any kind of failure. They work to push themselves to their limits, so anyone from the outside would find the harsh talks they have at times to be that they hate each other, but more they are rivals as well as Rider and Elemental.
Lair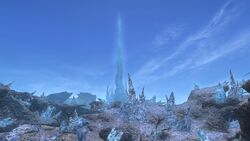 As a creature of power and stature, Viamor has built himself a home that shows to everyone just that. From the very ice he has drawn up into a very massive and exotic structure. Except for a ring of ice along the outside to keep simple beasts and pests out the structure is largely a crystalline tower. Each floor has been made to easily fit a dragon of his size and then some as it rises up high nearly into the clouds. Except for himself and other ice dragons the cold rooms are not very hospitable for any long period of time.
Each floor has a purpose, though it is not always clear what that purpose is since few guests stay long enough to find out. There are rooms made to house guests and finer places to meet with ambassadors or Elementals who brave his harsh lands to visit him. Many rooms are hoards of treasure and unusual items that have been brought in to him by his Riders and those trying to appeal to him. There is also a place that some would call a graveyard while he calls it his shrine of honor. Those children, Creations, and Riders who have fallen while serving him are forever enshrined in ice and kept on display within his halls. It has preserved them all well, meaning much of the history of the island can be found frozen in his archives.
played by: RORDRIK ▪ face claim: Alphawolf6738