Post by Samantha on Dec 7, 2013 2:41:11 GMT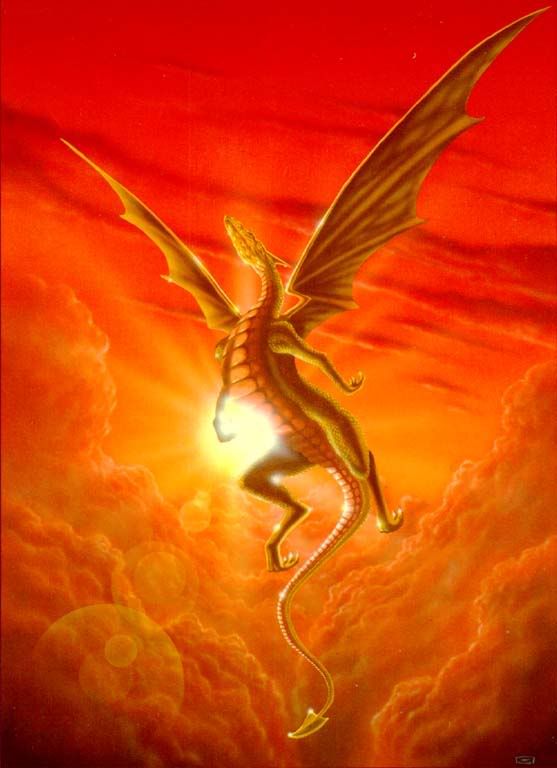 [Picture not mine- found online. Please let me know if this is yours, and if you would like credit or like it removed!].
Name:
Tivialous
Gender:
Male
Element:
Light
Eye Colour:
Brown by day- bright, starry yellow at night.
Appearance:
Tivialous is quite a slender dragon. By day, he is a glorious golden colour, but his scales turn silver-white in the moonlight. Even if he is in the dark, and the moon unable to reach him, they somehow "know" when to change.
Most of his body is covered in small, circular scales. In contrast, his chest and underside are shielded by irregularly shaped, large, protective plates. His limbs, of which there are four, are thin, with well developed knee joints that give him greater flexibility than some of his brethren. His hind legs have an additional joint, about halfway between the knee and ankle, which means that he can fold his lower foreleg up against the upper part if need be. It also means that, when he is standing flat on the ground, he tends to look a little awkward. His paws are interesting, too. All four of them are hand like, allowing him to pick up and hold objects. Each of the four "fingers" on each paw is tipped with a short talon. These talons can be used in attacking, like most dragons, but aren't hooked enough to tear out great chunks of flesh, or anything special like that. In fact, they can't do any great amount of damage to armoured dragons.
His wings are rather long and sort of bat like, and the fine framework of bones beneath the leathery skin provides him with great control over his flying. The skin on the undersides of these wings is not protected, but the top sides shimmer with those little scales which coat most of his body.
Personality:
Tivialous is a calm individual. Unlikely to make rash decisions, he can at times appear indecisive, especially when it comes to major events such as war. As a warrior, Tivialous is not totally inept, although he lacks the slyness or cunning which would greatly benefit a dragon of his size in battle. He prefers to fight face to face, man to man (so to speak), although he is fully capable of illusionary tactics when need be. Tivialous loves flying along in silence, alone with his thoughts; as there is a unique sense of peace to be gained from solitude. He could potentially drift along in this manner for hours, oblivious to the world below him as he focuses on the world within and feels the warmth of sunlight upon his wings. Perhaps you could call him dreamy or absent-minded- others certainly have. Alone, he is given to daydreams, which is probably a weakness that others could exploit. However, in times of tension; he is predictably much less prone to doing so.
In company, Tivialous is alert and attentive, and certainly not given to interrupting others. He listens well and can often give good advice.
Tivialous is the Elemental dragon of Light, and as such he strives for perfection in his own personality. Despite his inherent positive qualities- calmness, optimism and kindness among them- he feels the need to be better. Like everyone, he has certain…prejudices that he seeks to overcome. He has a natural wariness of Death Creations, and becomes paranoid when Eien is around his own Creations (though as a Deathless being, he is less concerned when talking to her one on one- while her territory still gives him the "heebie-jeebies", so to speak). He wants to be as fair as possible to all sentient beings but, even after so many centuries, this wariness of Death lingers. However, Tivialous does his best to not let this impede him; and to provide wise and fair judgement to anyone who seeks it. Given his great age and his ability to read emotions (see below), it would not be unfair to say that Tivialous is wise. Even so, his failure to properly understand his daughter Kohaku in time may have been what drove her from him, so there is still room for improvement in this area.
Tivialous is no coward, but his unwillingness to fight has led to him receiving accusations to this effect. In past, he would have fought to defend his honour at such accusations, but the millennia will change a man. Tivialous is far mellower than he once was, in part due to his own attempts at perfection. He has always sought perfection although, over the millennia, he has had different views of what perfection is. Once he wanted to train himself to mental and physical perfection, to become a shining beacon of power and knowledge. At present, he simply seeks to embody the warmth and gentleness of sunlight. That may be oversimplifying it a little, but you get the idea.
There have also been times in past where Light has become obsessed with a concept of beauty. These obsessions manifested most recently in the creation of the astra and soles- better known as the moonkings and sunqueens. These lupine creatures, no more intelligent than regular wolves, roam the forests and plains of the Light territory. The moonkings, which prowl by night, are silver furred. Each has a bony "crown" running across the top of his head, just behind the ears. What looks like a blue jewel adorns the middle of the crown. Sunqueens are similar, but they have golden fur and roam by day; and their jewels are red. Moonkings are exclusively male, while the sunqueens are always female. Tivialous created them out of pure light but, as they were not given the draconic spark that would have gifted them with intelligence; they are not creations in the sense that his dragons are.
Light's relationships with his different Riders vary greatly, but his bond with his current Rider is a strong one. Nobody could say for certain whether it is their similarities or differences that bind them so, but bound together they are. He has not been this close to a Rider in a while- though, to be fair. the Rider before Tam only lasted a few weeks before being struck down by a rogue Creation, so there wasn't a lot of time for bonding.
Fighting Weapons:
Teeth, claws, and occasionally his tail. And, of course, his element. Tivialous completely controls light, and is always finding new ways to use it. A short time ago, he discovered how to redirect light to make himself invisible from some angles. But his element is not purely defensive either- as you may expect; Tivialous is also able to direct blinding beams of light at his enemies, or create mirages in desolate places to lure dehydrated travelers to their doom (not that he would ever do this...)
History:
Long and very complicated. He helped one of Rome's rulers rise to power, and assisted with the downfall of that same ruler. He was also the inspiration for many sun gods. These days, though, he mingles with humans far less. Compared to some dragons, he doesn't have many Creations.
Tivialous, near to the start of things, was a far more arrogant creature than he has become. Though he can only remember so much of his own history (age is a terrible thing), he remembers enough of this stage. He believed in the glory of the light element, as he still does, but in a more supreme way. He would have ruled over the others if he could. Bear in mind that, near the beginning, not much time or life or death had happened, so the importance of these elements had not really dawned upon him.
It was his first Creation, Sy, which taught Tivialous the importance of Life and Death. For much of her life she had been crippled, due to a savage attack in her youth, and Tivialous had cared for her. She died quietly after maybe one hundred years of existence, for Tivialous had used only a small amount of his energy when Creating her. This story, like most of his ancient history, is not widely known. Tivialous is not typically one to tell stories of times past, just for the sake of it.
His liaison with Izett, Talbot's mother, was a strange affair. Let us just say that Tivialous had been wandering about the hot, hot Fire lands for too long; and gotten a little delirious. He did not entirely realise who she was. Later he was left to pretty much raise Talbot on his own, which may account for the similarities between their personalities. Tivialous is proud of his son- the obstacles he has tackled, and the dragon he has become.
Tivialous and Akhil fought alongside one another in the first war, and have banded together in every war since. Tivialous considers Akhil as a brother.
Rider:
Tam
Other:
Tivialous and Tamara share an unusually strong bond for a Rider and Dragon. As well as his Elemental powers, Tivialous has the ability to sense the emotions of others. It only works within a short range, and he typically only engages it when he is alone and trying to "get in touch with the world". A few of his Creations also possess this ability.
Tivialous has five living offspring:
Talbot Arkem
(by Izett)
Kohaku
(by Adutaine),
Kession
,
Prism
, and
Kysannis
(all by
Ysera
).
His relationship with Ysera, his present mate; is a complex one. Tivialous is a good judge of character, due in no small part to his ability to read the emotions of others. In addition; he has known the other Elementals since the dawn of time- in many cases, it seems, there is not much more to know about them. But Ysera challenges him still. Full of twists and turns, both violent and fiercely logical under different circumstances; her personality is difficult to grasp. She is harder to understand than many on this account, and she fascinates him.