Post by Deleted on May 20, 2014 18:45:42 GMT
Name://
Dyeus (day-us)
Gender://
Male
Appearance://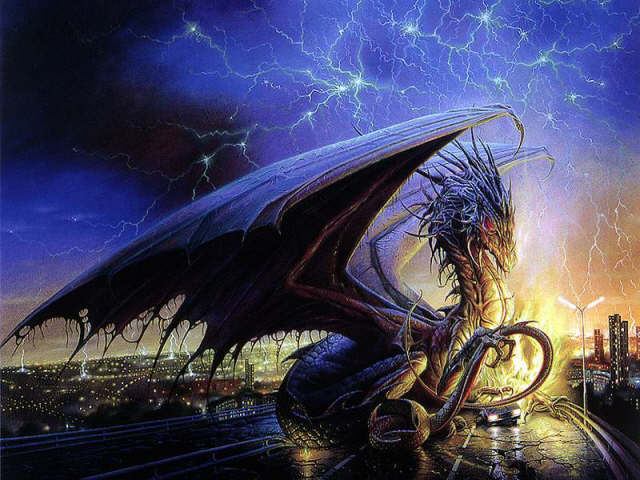 Dyeus calls himself the Lightning Elemental, even though technically he's a lesser elemental. The first most impressive appendage are his wings. These wings, fully expanded, are quite massive. Dyeus spends most of his time flying so his wingspan needs to be big enough to glide for miles with ease. The wings are a pitch black, shiney scales reflecting light perfectly as he flies. They are lined with very sharp spike, some natural while others were sharpened by Dyeus himself. His wings are very durable, made of a thick skin, and a single finger like claw sticks from the top edge; this claw is only used for climbing and balance.
The next impressive feature is his head. Several, long and dangerous spikes protrude from his skull, thick gray skin forming roughly around them, and continue down his neck, stopping just short of his collarbone. These weapons continue up again just after his wings, flowing down his tail to clear again where his tail reaches his legs- This also makes Dyeus's mid back vulnerable, adding to his need for a rider. In a way this mass of spikes is beautiful; made of a similar material as his scales, their radiant form making quite the headdress. If only these spikes weren't so sinfully sharp.
His two, large eyes are also quite impressive. Dyeus has vibrant yellow eyes that shine through day or night. These eyes change with emotion, only slightly dulling when mad or confused. When he activates his powers, however, Dyeus's eyes glow so bright, one could compare them to writing with a glow stick at night. He has no stealth factor with these but who needs one with a body full of spikes?
Dyeus's body is sleek and long, yet muscular and covered in think scales. He has the body type of a python that's just eaten a deer; His neck is slender and long while his hips are large and bulky. This makes it very hard for Dyeus to walk, adding to his love of flying.
Dyeus arms and legs are very contrasting. His arms are slightly shorter than his neck and moderately thin with only three fingers. His legs, however, are quite large and muscular, taking after his father. He can use his legs for immediate take off: Jumping high and giving a few pumps of his massive wings.
Dyeus has a very smooth, long tail, taking after his father and contradicting with the rest of his body. The tail is barely covered in luminescent scales and has small steering wings along its mass, a simple dagger at its tip. This arrow is flimsy and takes no attention away from the rest of his glorious body. As much as Dyeus would hate to admit it, his tail is one of his most vulnerable spots.
Personality://
Dyeus is a proud dragon whose ego is as big as his wings. Despite being a lesser elemental, he feels he's actually one of them; "My skills far out mask theirs." This egotistical-ness often gets him in much trouble.
Dyeus is also very showy. He makes a huge deal of his appearance and presence, taking any chance he can to show off his pleasing aesthetics. No one would put it against him to throw a couple of backflips while flying just for the hell of it.
If he gets anything from his father, it's Dyeus's love for flying. Though his body is built more like his father's, he does have a bigger wingspan, more fit for gliding. The feeling of wind through his wings can't be beat. His powers also call for high altitude so he feels most at home near the clouds.
Dyeus is also quite bitter. He wants what he wants and he gets what he wants, no questions asked. Whenever things don't go his way this fierce dragon pouts; he's the master of silent treatment. He'll stare daggers at those who disagree with him.
One of the traits Dyeus gets from his mother is blunt honesty. He isn't fond of sugar coating and has no intention of laying things down nicely. He'll tell you exactly what you don't want to hear, wether you take it in a nice way or not, it doesn't matter; he already said it.
Another trait from mommy is Dyeus's lack of remorse. In his mind he can do no wrong, so no matter what he says or does, in his mind it's justified.
Rider://
N/A
Mother://
Eien
Father://
Astraeus
Other://
Coming from the Queen of Death and the King of Air has it's advantages. The combined elemental gives Dyeus a new power: lightning. Instead of breathing fire, this dragon breathes electricity. Said electricity charges in his mouth in a ball form, some stray charges running along his teeth and jaw, before shooting forward in a beam of bright, burning electricity.
Dyeus's abilities work best when he's at a high altitude; Lightning generates in the clouds. His wings are another matter with this shocking gift. The more electricity he charges the larger the sphere of energy is. Any stray licks of charge run down his body, not harming his thickly scaled flank, but charring and ripping at the edges of his wings. Dyeus has used this to his advantage though; The frayed edges are sawed down and sharpened to act as more spikes, giving his wings the resemblance of razors.
If all else fails, Dyeus as an ace up his metaphorical sleeves: Those dastardly spikes. They're very sharp and often contain small electrical charges from his last use of his power, so getting stabbed with one of those babies would not be pleasant. The lightning user's arms are very fragile, so combat often involves sheltering his arms while his uses his head as a battering ram.