Post by Deleted on May 12, 2014 17:54:17 GMT
▪ Kharon aka 'The Ferryman' ▪
▪ 350 Years Old ▪
▪ Male▪
▪ straight ▪
Eien ▪ Death
appearance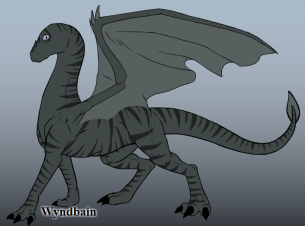 Kharon was clearly created with one purpose in mind, speed. It has often been a wry joke with him, that this purpose allows him to quickly send poor souls to their deaths. One look at him and you might agree. Tall, long and lean Kharon is built like a thoroughbred race horse. He has a deep set chest, to enhance his stamina, and large shoulders to propel him forward in flight. He is not built to glide so his wings are more triangular in shape, with the muscles speed calls for. And while he can fly for a few hours, he is not made to spend all day in the sky.
Built with an eye towards speed, he lacks true metallic scales. Instead Kharon has leather like hide, smooth and unblemished which helps to make him quite streamlined. Of course it also means he tends to lounge in mud wallows to keep his skin moist and sunny ledges to keep himself warm. Kharon's hide is uniformly gray in color, and it is a gray which blends in well with shadows of any shade. Tiger like stripes, also gray, help him blend into his nearest surroundings. This natural camouflage is one of his defenses should he ever be attacked. He inherited Eien's eye color of bright unearthly blue, though his eyes have a pupil and do not glow. Kharon has a true dragon's mouth, full of dagger like teeth and most of them are serrated across the back edges. Kharon can roar, but prefers to hiss and snarl. With long claws that retract like a cat, he can strike out with them just like a cat would.
personality
Kharon is not very emotional, in fact he can be rather stoic about the world he lives in. His personality is stereotypically male, as he will not cry over 'an escaped meal'. He rarely displays any emotion at all, in fact most of the time the only hints about his feelings on a matter is the tone of his voice or the tilt of his wings. He has a long temper and a short fuse, meaning it takes quite a bit to make him angry but once he gets to that point he tends to react quite violently. He is not one for subtle reprimands or innuendo, instead he has a blunt truthfulness which can offend people he has just met, even though that is not his intention.
Kharon is often underestimated since he is slow to speak, but that hides a deadly intelligence Eien passed down to him. This intelligence has given him a sharp wit and a darker side of humor that is actually expected of a creature from his element. He is loyal as long as he benefits from it, but it not one to betray another no matter the situation. This causes others to trust him, knowing he will not disclose privileged information. Like death, Kharon can be stiff and unyielding, unwilling to compromise his values or his positions. And like death, Kharon does what is required of him and does not like to fail in any attempt.
Given that, what virtues does Kharon have? Well most find his dark humor funny, despite the subject matter. And he can be relied upon to liven up a conversation with his sharp wit. He can also allow himself to be the center of a joke, so many feel inclined to include him in the group conversation. He can fill in most gaps when it comes to getting a job done and mostly, he can be relied upon to get a job done.
One of Kharon's favorite things to do is to place a price on a service from him, or even place a price on avoiding your soul's energy being siphoned off. He is a bit of a metal hoarder; anyone offering him gold, silver or copper instantly has his attention. He is always more than happy to put a price on someone's life, or their soul.
Powers
Kharon cannot summon the dead like Eien can, but he can talk to them. He cannot compel them to come to him, nor do as he says, but if a spirit happens to be lonely, well then Kharon is always available for a conversation. Kharon's most powerful ability is the ability to use another being's soul energy to fuel himself. He does not use a flame like Eien does, but instead siphons off a soul's energy for his bodily needs. This ability doesn't really a harm a being, the first few times except maybe for some grey hair and a little tiredness. If he continues to use the same being, strange side effects (wandering off, forgetfulness, personality changes or just narcolepsy) can occur. Using another's soul does nothing for Kharon except give him energy, which when he tired from flying for hours or engaging in a fight, can come in handy.
Here is my roleplay sample:
The sun edged just over the horizon, the glowing ball of warmth and light once more returning to the blue sky. Kharon stretched, wings splayed out behind him, as the swathes of light caressed his hide.
He had spent the night on the stone ledge of a canyon, the rock had held the sun's heat from the previous day, and the canyon walls had been the home to several big horn sheep. The walls had also blocked the wind which had cropped up from the east and pushed him off his intended route a bit harder than he had wanted. But it seemed the wind had died down, the day would be warm and beautiful and he would be able to make up the lost time. All in all it was a satisfactory morning.
As he stretched in the morning sun, his claws came out gauging deeply into the rocky ledge ruining the once rain evened surface. The sharp scrap of claws on stone was music to him and he smiled to hear it. The bleat of a terrified sheep caught his attention and he found the remains of the decimated herd slowly descending to the canyon floor in an attempt to escape from him. His eyes narrowed as he watched them pick out a safe path, his brain attempting to decide if he needed to eat. Finally he shook off the dust of his landing, his stomach demanded nothing of him at the moment and he needed to be on his way.
He turned towards the cliff face and decided to climb upwards instead of flying. While he had slept warm through the night, he was not as warm as he preferred to be for flight. With a weary sigh, he began to scuttle up the canyon's cliff face much like an overgrown lizard. When he reached the top, the sigh which escaped him was full of bliss. It had taken the sun a few hours to reach his ledge, but this plateau had been warming for a few hours now. Gusts of warm air teased his hide, beckoning him upwards. With a quiet hiss of satisfaction he opened his wings and leapt into the air, quickly catching a thermal and rising upwards into the sky. He gave a quick barrel roll, stretching in the warm air like a contented feline. After a few moments he seemed to shake himself in the air, before positioning himself towards the south and beginning to speed along his way.