Post by Torin on Jan 9, 2014 1:48:47 GMT
Name: Astraeus

Gender: Male
Element: Air

Appearance: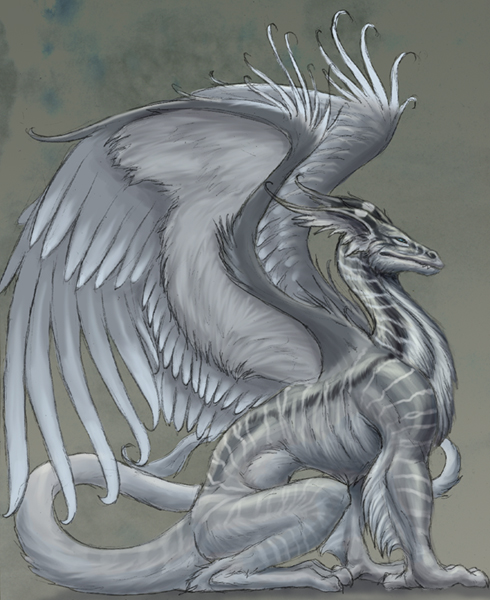 Astraeus is a smaller, quadruped dragon who, unlike many of his counter parts, is covered with short, slate-grey fur that starts at his nose and makes its way to the tip of his tail. It feathers slightly at his elbows, knees and even on his chest. When he stands, his hind legs are taller than his front and are more powerful, meaning he has a greater jumping ability. He is a thin dragon, lean and well-built with an extremely long tail, but incapable of the brute strength the other elementals have.

Personality:

Picture this: a white dragon, head held high with pride and standing tall and strong on the edge of a cliff under which the ocean waves rage and surge, and the sky behind him a bright, fiery orange. You got it, right? It looks fairly majestic, I do agree. Now take that image and crumble it, tear it, burn it, and, finally, crush it under your heel. That is not picture the Air Elemental's personality creates.

A single word that would describe Astraeus would be happy. He is a curious thing, calm (sometimes), patient, and takes joy in the minutest details, whether it is a flower blooming in a field or perhaps a snowflake that has landed on his nose. He is almost child-like in his ways, and is far too trusting of others for his own good. An adventurous spirit, Astraeus goes wherever he so desires, though it is to be expected of him to change his mind in the middle of a flight. Wishy-washy? Nah. Something else has just caught his attention at the time. And don't be surprised if he tries to pull you into his shenanigans.

Astraeus' mind is always working; taking into account of everything he sees and hears. He asks questions to learn—to him there is never enough of learning, for it is when one thinks one knows everything, Fate will intervene and show one just how wrong one is—and in learning, he forms his own opinions and becomes wiser for it. Upon finding something new, he will want to know how it works and what its purpose is. He believes that everything has a purpose, even if it is just look beautiful and nothing else.

The Air Elemental is perhaps a bit eccentric, he'll laugh in your face if you tell him that, though, before he continues on his merry little way. It's not uncommon to hear him talking to himself or to an inanimate object, most of the time he doesn't even realize he is.

He is rather fond of his creations; he likes to watch them to see how they are doing and what adventures they are on. He'll not interfere though. They must learn on their own without him butting in at every problem. Only in the most extreme circumstances will he rush in to save the day.
Astraeus is not a dragon of severity or anger. When it does come, be prepared to pay the consequences, even if it wasn't one's fault. He tends to be neutral in his stances concerning wars, but when it comes right down to it, he'll chose whatever he believes is for the best. He is stubborn, refusing to be easily swayed; if one wants to change his mind once it's set, one had better have a very good argument, and possibly some proof.


All in all, Astraeus is exactly that: himself.

Abilites:


Sure, Astraeus may have claws and teeth to tear and rip like all other dragons, but no hard, protecting scales does he wear like armour, and no great size does he boast; but what could very easily be his weaknesses are just obstacles to be taken into account (though if one does happen to get close enough, he'd surely lose). Wind is all he needs.

Unlike other dragons who breathe fire, Astraeus blows a gale of such force it could demolish a stone of great size within seconds. He can vary its power from something soft and pleasant, to something so acute it cuts like a newly sharpened knife. He prefers not to use this though seeing as he is so mild mannered. Something he does like to use though—albeit mainly for playful circumstances—is turning air against a fellow dragon and preventing them from flying and sometimes even moving. He also likes to use wind to move things, pulling them towards him or pushing them away. Using this, he can also make himself faster as he flies.

Being a dragon of more defensive tactics, Astraeus can make a ball of wind surround him. It is nigh impossible to penetrate and is capable at flinging projectiles back at the original thrower (best offense is always a good defense, no?), though, the bigger the objects, the harder it is to return them. That takes up quite a bit of energy, and when he doesn't want to use that he just uses small amounts of wind to keep attacks at bay.
Needless to say, Astraeus is air. This goes far beyond controlling it; he is connected to it. The Elemental can feel any little change in the air: temperature, humidity, the very molecules that make it up. Around him, the air always seems fresher, purer. In fact, it is. He knows the molecules in the air around him and can manipulate them. In an area low in oxygen and high in other harmful elements, Astraeus is capable of inhaling the bad mix of elements and exhaling what is needed. Or vice versa if he so wanted. (Still WIP idea. Need to smooth it out.)


History:
Like all the other Elementals, his life began eons ago. In this time, he's made quite a number of creations, each of which he has taken great joy in, has had a number of riders, but no permanent mate, and has had countless escapades.
Astraeus has not made a severe impact on the world. Yes, he blows the soft winds, and yes, he is a large factor behind storms, but there has never been a need or a desire to do something so awe-inspiring in order to make the humans kowtow; although, in the past, mankind has indeed worshiped him.

One of his more noteworthy things is that it was he who made Aeolus, the ruler of the winds, famous. It was also his winds that Aeolus captured in a bag as a present for Odysseus on his ill-fated voyage home.

Rider: Haikal Brisbane

Other:
The Air Elemental has a small collection of trinkets his previous riders have given him. He has an affectionate spot for them.
Haikal is the first rider he's had in almost seventy-five years.

Role play Sample:

The six legged creature didn't move. Its giant eyes were staring unblinkingly at him. It turned away, reaching for food, and bringing it up to its mandibles, ready to devour it and everything else in sight.

Astraeus pressed himself closer to the ground. He could feel the grass under his belly. It prickled, but he ignored it, watching the creature. He knew he must have been a funny sight: neck stretched out and wings pinned to his sides as he lay as flat as he could get in the grass, unmoving. Perhaps if he had seen a dragon doing the same, he'd have laughed. But right here and right now he didn't. This was a serious, a very serious, matter.

The creature turned back to him, fixing him in its sights, its feast apparently finished. It tensed, bracing itself the gargantuan bound it made towards the dragon a second later. Astraeus backed several steps, his blue eyes widening slightly before they focused on it, waiting for its next move. It leaped towards him, and he moved back again with urgency. A third time it sprang, this time Astraeus was not able to escape it.

The dragon sat up slowly, carefully, trying not to disturb the cricket from its newly found perch on the end of his nose. They examined each other, its antennae moving about. Astraeus puffed a small amount of air through his nostrils as the cricket fidgeted and its wings buzzed at him.

"You know," he said, "I could teach you how to fly. How to really fly, instead of jumping all the time. It'd be fun. You could move around faster. You'd be different."

The cricket merely watched him.

"No? But it's fun. Feeling the wind through your wings, it's almost like you're invincible. It always makes me happy. There's nothing quite like it."

The cricket turned, signaling that the one-sided conversation was over. Astraeus took the hint and lowered his head to the ground. The bug wasted no opportunity and jumped off before it began to hop away. Astraeus watched it go.

"Well, goodbye!" he called after it cheerily. "Maybe next time you'll change your mind!"

Getting to his feet, the dragon began to hum happily as he stretched his wings and prepared to take off. With several hard down-strokes he was in the air. He could feel the wind through his feathers as they molded and moved with the wind, taking him higher and higher. His humming grew louder.

Well now, where to?

Anywhere he wanted. Anywhere new and exciting. Anywhere at all.

Onward ho!