Post by Samantha on Dec 14, 2013 11:16:24 GMT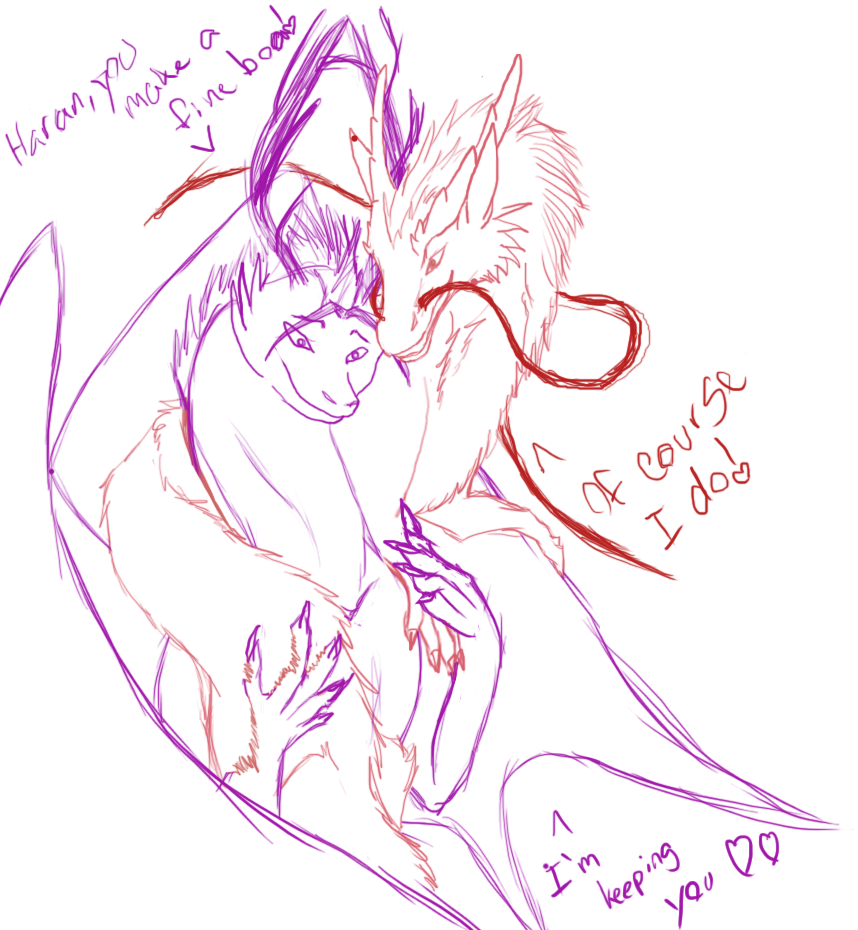 (the original image has disappeared from the site hosting it. Until I can track it down again, have this adorable sketch by Twi. Haran is the one in the red. =) ).
Name:
Haranling (Huh-ran-ling)/ the Tiger of the Vale.
Gender:
Male
Creator:
Viamor [Ice]
Age:
112
Appearance:
Haranling is quite a striking individual. Thick blue-white fur covers a long, lithe body; broken at intervals by long black stripes. A soft mane of much longer blue-white fur stretches from the back of his head to the tip of his tail, giving him a rather fuzzy and physically vulnerable appearance. All of this fur helps to keep him from freezing to death in the cold conditions although, as an Ice Creation, he is not as affected by the cold as most in any case.
It is perhaps strange that he was Created in such a form, given Viamor's emphasis on strength; but it makes more sense when you think about it. He is the tiger hiding in the undergrowth- he appears perfectly harmless but, when provoked, boy can he bite!
Haranling's paws are not perfectly suited for grasping or picking up objects. Though his wrists can bend, and his fingers flex; he does not possess thumbs. It follows naturally from this that the Ice Creation does not have a great amount of dexterity.
A pair of horns sprout from just behind Haranling's eyebrows. White with blue stripes, they are set at an angle which makes them of little use in battle, except for perhaps preventing blows to his head. Beneath those eyebrows, narrow violet eyes peer out at the world.
Two long whiskers trail like ribbons, one on either side of his face. These are light and soft- easily caught and tossed about by the breeze. However, the part where they join his jaw is more rigid, keeping them from trailing down and becoming caught by his feet.
Haranling is not exactly a large Creation, but he is not small either. Haranling is perhaps a metre and a half at the shoulder, with a long thick neck above that.
Personality:
Haranling is a playful character, who loves to joke around and exercise his natural wit. Perhaps he may come across as a little flirtatious at times, but this is simply because he has a great appreciation for beauty in all its forms- he is not actually looking for any kind of mate. On the other hand; Haranling does enjoy the company of his friends.
His open and trusting façade may make Haranling seem naive, but he is from it. Rather, he is quite a clever and cunning creature, more difficult to deceive than he might at first appear.
In spite of his lack of scales, this dragon is not entirely useless in combat. He has a couple of powers which come in mighty useful (detailed below), and in addition he has a mouth full of small, sharp teeth (as well as small, sharp claws).
Haranling loves the cold places, but becomes sluggish and withdrawn in warmer climes. For this reason, he is not much of a traveller, preferring to remain with the Ice territory- where he acts as a helper to those who find themselves lost there. In his natural cold environment he is energetic and ever moving, whether he is frolicking around or simply fidgeting a lot during a prolonged conversation.
He makes his home within the Vale of Winter, but travels to guide other dragons through the more dangerous zones or simply to feel the thrill of the storm. Habitually theatrical when alone, for whatever strange reason; Haranling will twist and jump and yell abuse at the stormy skies. However, the moment another dragon enters the equation, he returns to his old playful and seemingly naive self. Perhaps he is embarrassed of his enjoyment of the dramatic? But he doesn't dwell on it and, if you were to ask him outright, he would probably struggle to explain why he acts in such a way.
This Ice Creation is thick-skinned, and very unlikely to take insults to heart. On the surface, he doesn't seem to take life seriously at all. But he does, really. You've heard the saying "life is too short to be taken seriously"?. Well, he is an adherent of this creed. He views life seriously in that he intends to make the most of it, rather than fretting and worrying over every little thing. And now that his Creator has declared that he will "tear down the old world and create the new", it seems imperative to take advantage of these quiet moments before the danger hits.
Haranling embodies the sparkling aspect of Ice, more so than the cold. He has a vibrant, energetic personality. He is whimsical, quick to laugh, slow to anger and soon to forgive. Often acting on a whim; he can seem mightily unpredictable, but beautifully and gleefully so.
History:
Created on a day when the clouds had parted, allowing sunlight to filter down into the Tower upon the Storming Plains. Perhaps this rare occurrence helps to account for his bright personality, as opposed to the coldness one would expect from an Ice Creation. Not long after his Creation, Haranling stumbled upon the Vale of Winter, and it has been his home for the hundred or so years since.
A fan of theatricality, Haranling is also known variously as "the Tiger of the Vale", "Winter's boon", and "the Ice Prince".
"Winter's boon" and "the Ice Prince" are both nicknames he received from thankful travellers, whom he had successfully helped to navigate the Vale of Winter (and the Storming Plains, in the case of the one who gave him the name "Winter's boon"). Ice Prince refers in addition to the regal way he carries himself, head held high, when he actually bothers to walk instead of frolic.
"The Tiger of the Vale" is a general title, which he more or less gave himself but which he occasionally claims to passers-by was bestowed by his Creator. It refers both to the striking colouration of his fur, and to his resemblance to the "crouching tiger" of proverb- his dangerous aspects are hidden from view.
Haranling's relationship with his Creator, however, is quite distant. He does acknowledge Viamor's authority but, with the recent news from Selgar and his band, is beginning to doubt Ice's sanity.
He has met Selgar, though only briefly; and is friends with Icicle and Ivory. Haranling has known Icicle and Ivory since he was young, and enjoys teasing/provoking the hot-tempered Icicle. Perhaps this is foolish of him, but nobody ever said Haranling was wise. In any case, no harm has come of it so far.
Other:
Like most Ice Creations, Haranling is well adapted to living in the sub-zero temperatures that are typical of his home.
He has two special abilities which can come in useful in combat. The bristles along his back and tail can be transformed into deadly sharp, icy spears, which can be fired at an enemy if need be. He can also emit a short, harsh bark which causes avalanches; though of course he has to be careful not to let himself be swept up in the ensuing rush of ice and rock. In such a situation and in combat Haranling is swift, darting around and above his adversaries like the winter winds. He can leap pretty high, and thus may be vaguely reminiscent of a deer as he fights. However, this Creation can not fly, and due to his build he can walk none too fast; and so he tends to bound when he is in a hurry as well.
Compared to humans, Haranling has keen sight and hearing. His sense of smell is not too bad, all things considered, but he has a limited sense of taste. This does not particularly bother him.